Marussia Virgin Racing MVR-02 Cosworth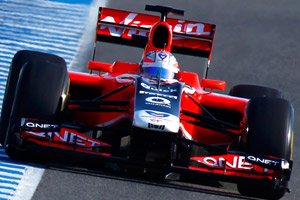 Active: 2011
Team: Marussia F1 Team

Team: John Booth (TP), Nick Wirth (TD), Andy Webb (CEO), Nikolay Fomenko (ED)
Drivers: Timo Glock (24), Jerôme D'Ambrosio (25)
Virgin Racing continued their path of virtual design by Nick Wirth, and the team are proud yet again to have designed this car solely by CFD. The car was unveiled on 7 February at the BBC TV centre and immediately showed great resemblance to its predecessor.
Nonetheless, there are a few striking features that are quite different from any other car fielded in 2011. First of all, the nose has not been raised, and as such the MVR-02 has the lowest nosecone of all 2011 cars. The nose did get slightly wider though, and the bulges on the upper side have grown a bit. This allowed the team to slightly increase the angle of the push rod, allowing for easier and more precise suspension adjustments.
At the centre of the car, the sidepods are at first rather similar, but nothing is less true. In fact, the air inlets are made aggressively small for increased aerodynamic efficiency, while the undercut is impressive. This was partly made possible because the team have chosen not to run KERS.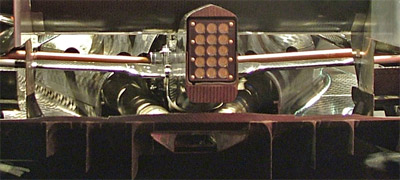 As the 2011 launches were mostly about the position of the exhausts, Virgin Racing came up with yet another alternative, as they have very long exhaust pipes that join together right before the diffuser. With has designed them as such that part of the exhaust gases blow through the diffuser's starter hole, effectively creating an open fronted blown diffuser.
Nick Wirth further explained at the launch that his team have also focused to eliminate some of the problem areas of the 2010 Virgin Racing VR-01: ""We have addressed every single issue that troubled us last year, but in our own unique digital way. For example, the hydraulics and gearbox oil problems of last year have resulted in us doing more CFD in these areas alone than we used in the entire aero design program our first digital race-winning sportscar in 2008. In Abu Dhabi we took the opportunity to prove out these digital improvements by successfully track-testing a number of systems for the MVR-02."
On a side note, the MVR-02 was designed to be the same length as the original VR-01 chassis whilst retaining the full-size fuel tank after that had caused problems for the team as well in 2010.
Specifications
Construction: Virgin Racing carbon fibre construction monocoque and nosebox
Suspension wishbones: Virgin Racing carbon fibre construction with titanium flexure joints
Uprights: Virgin Racing aluminium ally construction
Dampers: Penske
Wheels: BBS
Tyres: Pirelli Pzero
Fuel cell: 'FT5' safety specification
Fuel capacity: In excess of 220 litres
Brake calipers: AP Racing 4 potcalipers
Brake discs/pads: Hitco Carbon-Carbon
Steering wheel: Virgin Racing carbon fibre construction
Power steering: Virgin Racing hydraulic steering assist
Driver seat: Anatomically formed carbon composite
Seat belts: Six point harness (75mm shoulder straps with HANS system)
Electronics: ECU and logging system, FIA standard ECU & FIA homologated electronic and electrical system
Transmission
Gearbox: Virgin Racing precision aluminium construction with 7-speed, longitudinally Mounted internals
Differential: Electronically controlled hydraulic differencial
Gear selection: Paddle operated hydraulic shift system with "seamless shift"
Clutch: AP Racing
Driveshafts: One-piece driveshafts with integral tripod joints
Dimensions
Overall Length: Approx 5200 mm
Overall Height: Approx 950 mm
Overall Width: Approx 1800 mm
Wheelbase: Approx 3300 mm
Engine
Designation: Cosworth CA2011
Duty Cycle Type: 4 stroke reciprocating piston, normally aspirated
Configuration: 8 cylinders in banked V configuration with an angle of 90 degrees
Construction: Cast aluminium alloy cylinder block and head, forged aluminium pistons, steel crankshaft
Capacity: 2,400cc
Valves: 32 with pneumatic valve springs
Maximum speed: Limited to 18,000rpm
Timing: Double overhead cams driven via compliant gear from crankshaft
Mass: In excess of 95kg
Cylinder Bore: Less than 98mm
Fuelling: 8 injectors supplied by a pressurized system at 100bar
Ignition: 8 ignition coils each driving single spark plug
Lubrication: Dry sump
Spark Plugs: Champion
Images (c) Virgin Racing, Racecar Engineering
---
---