Red Bull RB10 launch analysis
Contrary to some others, Red Bull's Adrian Newey and his team have come up with a finger nose design that is still somewhat elegant, partly thanks to the livery that leaves the protruding part of the crash structure unpainted.
The nose itself is a fairly thin shape, allowing lots of air to flow underneath. It is a "keel nose", as Adrian Newey calls it, denoting a bulge underneath, not dissimilar to what Lotus has in its Lotus E21 during the 2013 season. Still, ahead of that is now the crash structure extension, including an air inlet.
At the front bulkhead, where the nose attaches to the chassis there are further openings of interesting. First of all there is a wide slot underneath the nose cone, with on both ends a separated, smaller opening. Above the nose, exactly under the "Total" sign in an air exit. We can only speculate how these are interconnected, but it looks most likely that the nose features an S-duct, feeding air from underneath the nose to above the chassis, while the inlet in the tip of the nose is likely for driver cooling. Still, it could be somewhat different.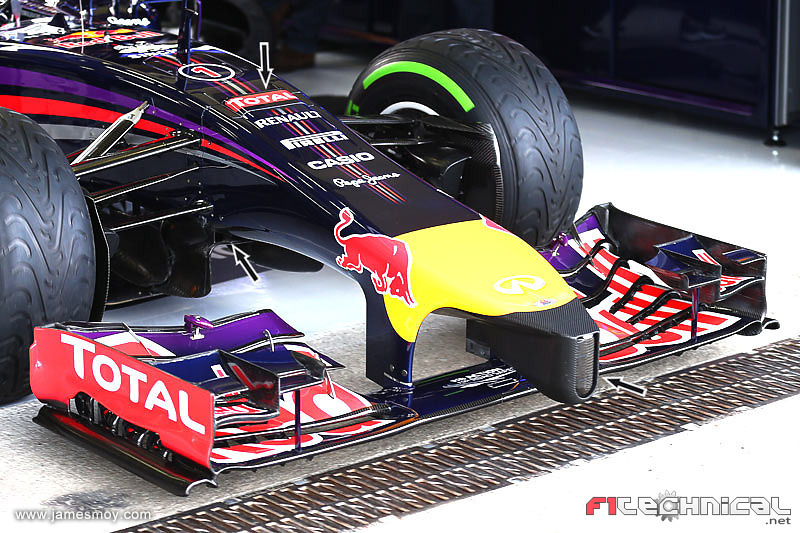 The upside of the chassis is an elegant version of the maximum height chassis. It flows up from the front bulkhead to its highest point before flowing down to where the cockpit opening is. It's very different to Ferrari or Mercedes where both cars have a flat upside right until the cockpit opening. Whether this has a important aerodynamic impact is something else, but it surely makes the car look good.
The front suspension appears to have remained largely the same, with sloping wishbones and a push rod. The steering arm is also still separate, located in between the upper and lower frontal wishbones, albeit perhaps slightly lowered.
More towards the back, the car reveals its heritage, as its lines are clearly based on Red Bull's earlier racers. Obviously the sidepods have grown a bit, but they narrow down quickly towards the back. The airbox is still very similar while the central tail funnel that previously used to exit hot air now covers the exhaust and forms the attachment point for a single central support of the rear wing.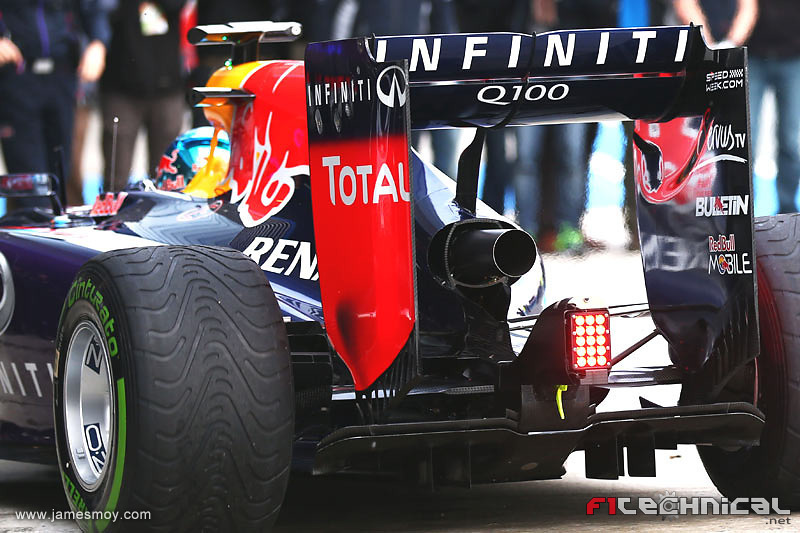 To provide for the lost cooling openings, new apertures were added close to the car's centreline, but further down to the floor. It's actually similar to what Ferrari have done, albeit that the air exits appear to be smaller.
As can be expected from a well funded team as Red Bull though, developments will soon be bolted onto the car. We can expect a further development of the front and rear wings, possibly a monkey seat and different sidepod panels, the latter still being the same as the ones fitted on the Red Bull RB9 at the end of 2013.