Manor MRT05 Mercedes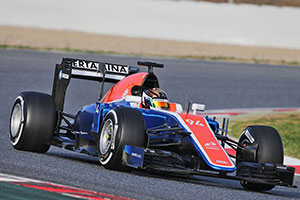 Active: 2016
Team: Manor Motorsport

Team: Dave Ryan (RD), John McQuilliam (TD), Nikolas Tombazis (CA), Luca Furbatto (CD), Pat Fry (Engineering Consultant), Stephen Fitzpatrick (Owner)
Drivers: Pascal Wehrlein (93), Rio Haryanto (88), Esteban Ocon (31)
The Manor MRT05 marks a new start for the previously Marussia-named team. Having taken on Pat Fry and Nikolas Tombazis, the team should be better prepared to make progress, even though both men probably didn't have much input in this car before its launch.
The relatively small team has certainly had its hands full over the winter to integrate the Mercedes power unit, having made a switch from Ferrari power. Even though engine mounting points are identical, by regulations, ancillary locations and cooling requirements differ greatly, making it a tough job to switch engines, especially when that decision is made late for the season. The change also means a performance boost, as the team completed 2015 with Ferrari power units of 2014 whereas Mercedes aims to start the 2016 season with all its customer teams on the same specification of power unit.
Apart from that, Manor also went into a technical partnership with Williams, enabling them to use 2015 Williams gearbox. Williams also supplied the rear suspension, while suppliers for wheels and brake callipers for instance are also identical to that of the Williams F1 Team.
From an aerodynamic point of view, Manor has its own team of aerodynamicists to design the car, resulting in a car with a long nose cone, widely known to be the easiest solution to accomplish while still managing to pass the front impact crash tests. In fact it is extremely similar to the nose cone that McLaren had on its MP4-30 during the first half of the season.
The rear end of the package on the other hand bears some resemblance to the Mercedes F1 W06, featuring short and very rounded sidepods, leading into air outlets close to the car's centreline.
In-season progress
As in previous years, the MRT05 proved another backmarker car, even though they were usually faster than Sauber, who struggled to find the resources for car development throughout the year whilst a team buyer was looked for. At Manor, things went well when Wehrlein managed to score a point at the Austrian Grand Prix, thanks to a late crash by Sergio Pérez, moving the German into 10th.
It were however the team's only points of the year for the team, and when Sauber eventually managed to score points themselves, Manor dropped back to 11th in the Constructors' Championship standings, hence losing its share of prize money. This effectively sealed the team's fate, which entered into administration and eventually collapsed on 27 January.
Specifications
Chassis: Manor Racing moulded composite monocoque with aluminium honeycomb core
Front suspension: Upper and lower wishbones, inboard springs and dampers actuated by push-rods
Rear suspension: Upper and lower wishbones, inboard springs and dampers actuated by pull-rods, as supplied by Williams Advanced Engineering
Dampers: Penske (front), Williams Advanced Engineering (rear)
Brakes: AP Racing callipers with carbon discs and pads by Carbone Industries
Transmission: Williams eight speed seamless sequential semi-automatic shift plus reverse gear, gear selection electro-hydraulically actuated
Clutch: Carbon fibre plates
Electronics: FIA standard ECU and FIA homologated electronic and electrical system (as provided by MES)
Cooling system: Aluminium oil, water and gearbox radiators
Tyres: Pirelli, Fronts: 245/660-13, Rears: 325/660-13
Wheels: Aptech, forged magnesium alloy
Fuel system: ATL Kevlar-reinforced rubber bladder
Dimensions
Length: 5,000 mm
Height: 950 mm (minus T camera)
Track width: 1,460 mm (front); 1,416 mm (rear)
Weight: 702kg (FIA mininum; incl. driver and lubricants, tank empty)
Powertrain
Designation: Mercedes-Benz PU106C Hybrid
Type: Turbocharged, 90° 1.6l V6, assisted with kinetic and heat ERS
No of valves: 24 (4 per cylinder)
Fuel injection: High-pressure direct injection (max 500 bar, one injector/cylinder)
Pressure charging: Single-stage compressor and exhaust turbine on a common shaft
Bore: 80mm
Stroke: 53mm
Crank height: 90mm (minimum allowed)
Energy recovery system: Integrated Hybrid energy recovery via electrical Motor Generator Units
Energy Store: Lithium-Ion battery solution, between 20 and 25 kg
Fuel: PETRONAS Primax
Lubricants: PETRONAS Syntium
Gearbox & hydraulic oil: PETRONAS Tutela
Power: In excess of 900bhp
---
---