Sauber C35 Ferrari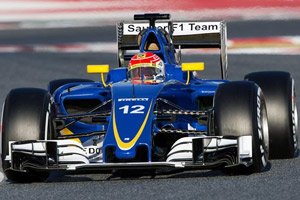 Active: 2016
Team: Sauber F1 Team

Team: Monisha Kaltenborn (TP), Mark Smith (TD), Eric Gandelin (CD), Elliot Dason-Barber (HVP), Beat Zehnder (TM), Timothée Guerin (HTO), Reto Camenzind (CM)
Drivers: Marcus Ericsson (9), Felipe Nasr (12), Raffaele Marciello (Reserve)
Sauber's C35 is very much an evolution of the 2015 car, mostly due to the team's limited budget and the late arrival of the team's new technical director, Mark Smith. He joined in July 2015 and therefore had little impact in the long leadtime items of the car, such as the shape of the monocoque. Even so, Smith said at the time of the launch that the new car is based on three key facts: a slightly different aerodynamic philosophy, adapting to changes within the power unit architecture as well as weight reduction.
"For the development of the Sauber C35-Ferrari, we slightly changed the philosophy of how we developed the car aerodynamically. It sounds little, but the impact on the development of the car is significant," says Mark Smith. "When looking at the Sauber C35, it is very much an evolution," he adds.
On the chassis side, Sauber managed to benefit from the advances in the 2016 power unit by Ferrari, having an imapct on the design of the monocoque of the car. Also the Ferrari gearbox, which the team continued to use, came in a tighter package, enabling a more aerodynamic rear end of the bodywork. The side pods are smaller and packed tighter than they were on the Sauber C34. Visual analysis shows the sidepods have a drooping upper profile and are tighter on the side to allow for more quality airflow to flow over the rear diffuser.
The car was obviously also adapted to the changed regulations, incorporating higher protection structures alongside the cockpit and seperated wastegate exit pipes. Because of the weight increases that this brought, the team claimed that saving weight on other components has been "a focus right away through the design procedure, and quite a demanding one as well".
The Sauber C35 debuted on track during the second of two pre-season tests as the team was unable to get the car ready in time. The schedule was tightly regulated, and the team found it impossible to adjust when a decision in December moved testing ahead on the calendar. The team therefore opted to run its C34 during the first week of testing.
Specifications
Chassis: Carbon-fibre monocoque, in-house designed and built
Front suspension: Upper and lower wishbones, inboard spring and damper elements (Sachs Race Engineering) actuated by push-rods
Rear suspension: Upper and lower wishbones, inboard spring and damper elements (Sachs Race Engineering) actuated by pull-rods
Brakes: Callipers (Brembo), carbon-fibre pads (Brembo) and discs (Carbon Industries)
Transmission: Ferrari 8-speed quick-shift carbon gearbox, longitudinally mounted, carbon-fibre clutch
Chassis electronics: MES
Steering wheel: Sauber F1 Team
Tyres: Pirelli
Wheels: OZ
Dimensions
Length: 5,150 mm
Width: 1,800 mm
Height (without T Camera): 950 mm
Track width, front: 1,460 mm
Track width, rear: 1,416 mm
Weight: 702 kg (incl. driver, tank empty)
Powertrain
Designation: Ferrari 059/5
Type: turbocharged, 90° 1.6l V6, assisted with kinetic and heat ERS
Valves: 24 (4 per cylinder)
Rev limit: 15,000rpm
Pressure charging: Single turbocharger, unlimited boost pressure (typical maximum 3.5 bar abs due to fuel flow limit)
Bore: 80mm
Stroke: 53mm
Crank height: 90mm
Exhaust: Single exhaust outlet, from turbine on car centre line, along with two outlet pipes connected to the wastegate
Injection: Direct fuel injection, limited to 500bar
Ignition: SKF spark plugs
Weight: Undisclosed (at least 145kg)
Total horsepower: Approximately 600hp (ICE) + 160hp (ERS)
Energy recovery system: Integrated Hybrid energy recovery via electrical Motor Generator Units
Energy Store: Lithium-Ion battery solution (up to 4MJ per lap), between 20 and 25 kg
Cooling system: Secan/Marston
Fuel and lubricants: Shell
---
---