Ferrari SF16-H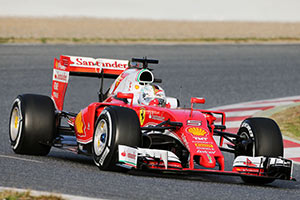 Active: 2016
Team: Scuderia Ferrari SpA

Team: James Allison (TD), Simone Resta (CD), Corrado Lanzone (Head of production), Loic Bigois (HA), Dirk De Beer (HA), Jock Clear (ED), Mattia Binotto (HE), Rory Byrne (Tech Advisor), Massimo Rivola (SD), Maurizio Arrivabene (TP), Sergio Marchionne (Chairman)
Drivers: Sebastian Vettel (5), Kimi Raikkonen (7)
The SF15-T is the sixty second car built by Ferrari specifically to take part in the Formula 1 World Championship. It was first unveiled at a team event in Maranello. It's the first car truely designed under the helm Simone Resta as the car's Chief Designer.
It is also the successor of the SF15-T, a car that won three Grand Prix and which was a massive improvement on the 2014 car. Having such a solid baseline, Ferrari had to make some larger steps across the entire design to make sure progress continued into 2016.
"The SF16-H is actually a very bold car, but it needs to be", said James Allison. "If you look at how be progressed from 2015, there we basically tried to improve a baseline that was essentially quite poor. However, for 2016, we had to be braver, and be able to work the entire car in an aggressive way. And that is something we have done on the chassis side, and certainly only for the power unit."
"Of course, every new car is breaking grounds, because we're making one because we believe it can be better than the old one. It's always a mixture of tried and true concepts, along with innovations and continued improvements. On the SF16-H though, there is a very large proportion of innovation and new elements, because that was necessary for us to make sure that we make the step forward that we need to make."
On the power unit side, Ferrari made similar strides, reconfiguring its power unit, making it more compact and relocating components to improve the scope for aerodynamic development. Already in 2015, a narrower engine block was introduced, while updates for 2016 include the relocation the ERS-K to be mounted aside of the engine block, rather than behind it in previous years. The 2016 engine also included variable inlet trumpets for the first time.
For more details about the technical changes, check the technical analysis.
In-season progress
The power unit of the 2016 Ferrari soon proved to be brittle, with especially the turbo charger being a problem. In Australia, the first race of the season, Kimi Raikkonen halted in the pits with fire coming out of the airbox, later confirmed to be a turbocharger failure. The team soon discovered a fairly major issue with the design, and developed and introduced a new turbo at the Canadian GP three months later. Until that time though, Ferrari ran its power unit de-tuned to ensure some reliability.
Still, at the British GP at Silverstone, another turbo failed, this time with parts penetrating the housing. It immediately triggered the FIA into demanding a reinforcement of the housing to ensure safety - knowing that a housing failure could launch numerous metallic parts around at high speed. Ferrari responded, but in the process increased the turbo's weight by 2 kg.
Specifications
Chassis: Carbon-fibre monocoque
Front suspension: Upper and lower wishbones, inboard springs and dampers actuated by push-rods
Rear suspension: Upper and lower wishbones, inboard springs and dampers actuated by pull-rods
Dampers: ZF Sachs Race Engineering
Brakes: Brembo callipers and carbon fibre pads and discs
Transmission: Ferrari 8-speed quick-shift sequential carbon-cased gearbox, hydraulically activated. Longitudinally mounted
Clutch: Carbon fibre plates, by ZF Sachs
Differential: Servo controlled hydraulic limited-slip differential
Electronics: FIA standard ECU and FIA homologated electronic and electrical system (as provided by MES)
Tyres: Pirelli
Wheels: OZ, magnesium alloy
Dimensions
Height: 950 mm (minus T camera)
Track width: 1,460 mm (front); 1,416 mm (rear)
Weight: 702kg (FIA mininum; incl. driver and lubricants, tank empty)
Powertrain
Designation: Ferrari 059/5
Type: turbocharged, 90° 1.6l V6, assisted with kinetic and heat ERS
Valves: 24 (4 per cylinder)
Rev limit: 15,000rpm
Pressure charging: Single turbocharger, unlimited boost pressure (typical maximum 3.5 bar abs due to fuel flow limit)
Bore: 80mm
Stroke: 53mm
Crank height: 90mm
Exhaust: Single exhaust outlet, from turbine on car centre line, along with two outlet pipes connected to the wastegate
Injection: Direct fuel injection, limited to 500bar
Ignition: SKF spark plugs
Weight: Undisclosed (at least 145kg)
Total horsepower: Approximately 600hp (ICE) + 160hp (ERS)
Energy recovery system: Integrated Hybrid energy recovery via electrical Motor Generator Units
Energy Store: Lithium-Ion battery solution (up to 4MJ per lap), between 20 and 25 kg
Cooling system: Secan/Marston
Fuel and lubricants: Shell
---
---