Scuderia Toro Rosso STR11 Ferrari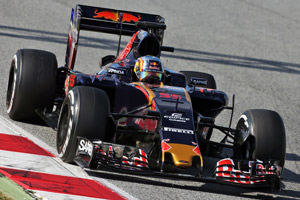 Active: 2016
Team: Scuderia Toro Rosso

Team: James Key (TD), Ben Waterhouse (DTD), Franz Tost (TP), Paolo Marabini (Chief Designer - Composite and Structures), Guillaume Dezoteux (Chief Engineer - Vehicle Performance), Mark Tatham (Chief Designer - Mechanical and Systems), Jody Egginton (HVP), Brendan Gilhome (HA), Graham Watson (TM)
Drivers: Max Verstappen (33), Carlos Sainz (55), Daniil Kvyat (26)
The Toro Rosso STR11 is the first one to be powered by a turbocharged Ferrari engine, following two years of Renault power. With Renault itself refocussing itself to its own team, Toro Rosso agreed a deal for one-year old Ferrari power units late in the 2015 winter. In fact, the Ferrari deal was only announced on 4 December, little more than 2 months ahead of testing. The change resulted in Toro Rosso adopting a longer wheelbase for the car due to the Ferrari 060 power unit and gearbox requiring a spacer to accommodate the MGU-K at the rear of the engine.
Despite the tight schedule, the car passed all mandatory FIA crash tests by 3 February and was ready for testing on 22 February at Barcelona. It ran the first week in a dark blue testing livery, before being officially presented in its racing colours on March 1st, one day ahead of the second and final week of pre-season winter testing.
Aerodynamically, the STR11 is very much a thorough evolution of its predecessor, featuring an evolution of the short thumb nose that was raced throughout 2015. The car also featured blown front wheel nuts as of its track debut, as well as an S-duct. At the back, the car features one of the tightest rear ends of the field, creating an aerodynamically advantageous shape to increase downforce generated by the car's rear diffuser. As a result, the team did experience some cooling issues during the first week of testing, but managed to do very reliably running in the second week.
It was clear at the launch however that the team was wary of the threat of falling behind due to the nature of its power unit deal with Ferrari.
"Clearly, it will be very important to work on chassis development in the strongest way possible," said technical director James Key. "We will be the only team with a year-old spec power unit and it will not be further developed from what we have now. All other teams will have PU development so we will need to compensate as best as possible with chassis development."
However, the technical director was confident about the chassis itself, even though team principal Franz Tost said at the same time that the late decision to go for Ferrari power units "could have a minor effect on the car's performance".
"When it comes to this year's chassis, we wanted to concentrate on improving the low-speed cornering capability of the car," added Key. "Last year's car was a big step forward and particularly good in medium and high-speed corners. But we have felt our lower-speed performance was not as competitive as we would like. That has been one area that has led to a change in approach for our 2016 car."
Specifications
Chassis: Carbon-fibre monocoque
Front suspension: Upper and lower carbon wishbones, pushrod, torsion bar springs, central damper and Anti roll bars
Rear suspension: Upper and lower carbon wishbones, pullrod, torsion bar springs, central damper and anti-roll bars
Dampers: Penske
Brakes: Brembo Calipers, Pads and Discs. Scuderia Toro Rosso brakes by wire
Transmission: Toro Rosso, Aluminium alloy housing. Eight-speed sequential - hydraulically operated Supplied by Red Bull Technology. Longitudinally mounted
Clutch: Carbon fibre plates
Electronics: FIA standard ECU and FIA homologated electronic and electrical system (as provided by MES)
Tyres: Pirelli
Wheels: Apptech, magnesium alloy
Dimensions
Height: 950 mm (minus T camera)
Track width: 1,460 mm (front); 1,416 mm (rear)
Weight: 702kg (FIA mininum; incl. driver and lubricants, tank empty)
Powertrain
Designation: Ferrari 059/4 (final 2015 specification)
Type: turbocharged, 90° 1.6l V6, assisted with kinetic and heat ERS
Valves: 24 (4 per cylinder)
Rev limit: 15,000rpm
Pressure charging: Single turbocharger, unlimited boost pressure (typical maximum 3.5 bar abs due to fuel flow limit)
Bore: 80mm
Stroke: 53mm
Crank height: 90mm
Exhaust: Single exhaust outlet, from turbine on car centre line
Injection: Direct fuel injection, limited to 500bar
Ignition: SKF spark plugs
Weight: Undisclosed (at least 145kg)
Total horsepower: Above 600hp (ICE) + 160hp (ERS)
Energy recovery system: Integrated Hybrid energy recovery via electrical Motor Generator Units
Energy Store: Lithium-Ion battery solution (up to 4MJ per lap), between 20 and 25 kg
Cooling system: Secan/Marston
Fuel and lubricants: Shell
---
---