Williams FW41 Mercedes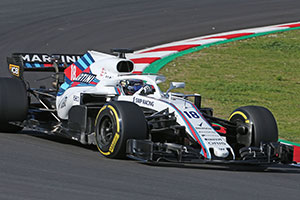 Active: 2018
Team: Williams F1

Team: Paddy Lowe (CTO), Rob Smedley (Head of Performance Engineering), Dirk De Beer (HA), Ed Wood (CD), Jakob Andreassen (HE), Steve Nielsen (SM), Claire Williams (DTP), Frank Williams (TP), Mike O'Driscoll (Group CEO), Luca Baldisseri (RE), James Urwin (RE), Andrew Murdoch (RE), Paul Williams (RE)
Team name: Williams Martini Racing
Drivers: Lance Stroll (18), Sergey Sirotkin (35), Robert Kubica (reserve)
Williams revealed their FW41 by releasing digitally rendered images of their new car on 15 February, as one of the first teams to share some details. However, in reality, the car was not finished at the time, and it emerged that it was only fired up for the first time days before the start of pre-season testing, which kicked off on 26 February at Circuit de Barcelona-Catalunya.
The FW41 looks significantly different to its predecessor, the FW40, following input from the team's Chief Technical Officer, Paddy Lowe, and Head of Aerodynamics, Dirk de Beer, who were both appointed at the beginning of 2017, to join forces with Chief Designer Ed Wood.
The car is the first one designed under the helm of Chief Technical Officer, Paddy Lowe. And visually, it certainly showed, with the team taking an aggressive aerodynamic approach by adopting Ferrari's sidepod inlet layout from 2017.
"It is very exciting to be giving everyone the first look at the FW41", said Lowe. "It is the product of some great teamwork across the various functions in the organisation including aerodynamics design, vehicle dynamics, race engineering and systems engineering. The car has many new features, most of which are not all that obvious, but externally the team has pursued a very different aerodynamic concept which has allowed us some significant progress in aerodynamic performance. All Formula One cars are an evolution of what has gone before to some extent, but the FW41 does involve a number of departures from the directions that have been pursued in the past.
"Overall, the philosophy we are starting to see emerge is a new approach to the collaboration between aerodynamics and design to achieve the optimum working result. Aerodynamics, structure and weight are the three major trades to be made in designing a Formula One car, and all the work, alongside a number of radical changes to the car's packaging to incorporate further developments from Mercedes HPP, have led us to the FW41 being revealed today. We hope that this car will make progress in the performance rankings relative to 2017. The whole technical team is also feeling very positive about our two talented young race drivers with the combination of Lance and Sergey, alongside the contribution of Robert as our reserve and development driver."
On-track performance
Once out on track, the reality was very different from the launch talk, with the team's new aerodynamic concept seemingly unfinished, or rather underdeveloped. In testing, as well as during races, both drivers often had trouble balancing the car, with repeated crashed as well due to the car suddenly losing downforce. One flaw that Williams admitted at Silverstone was that the car's floor suffered an aerodynamic stall problem in combination with the DRS system. The team were subsequently forced to switch back to an older rear wing until the problems were sorted.
Specifications
Chassis: Carbon-fibre monocoque, laminated from carbon epoxy and honeycomb
Front suspension: Upper and lower wishbones, inboard springs and dampers actuated by push-rods
Rear suspension: Upper and lower wishbones, inboard springs and dampers actuated by pull-rods
Dampers: Williams
Brakes: AP 6 piston front and 4 piston rear calipers with carbon discs and pads
Transmission: Williams eight speed seamless sequential semi-automatic shift plus reverse gear, gear selection electro-hydraulically actuated
Clutch: Carbon fibre plates (by AP Racing)
Electronics: FIA standard ECU and FIA homologated electronic and electrical system (as provided by MES)
Cooling system: Aluminium oil, water and gearbox radiators
Tyres: Pirelli, Fronts: 305/670-13, Rears: 405/670-13
Wheels: Dicastal, forged magnesium alloy
Fuel system: ATL Kevlar-reinforced rubber bladder
Dimensions
Length: Undisclosed
Height: 950 mm (minus T camera)
Width: 2000 mm (FIA maximum)
Track width: 1,600 mm (front); 1,550 mm (rear)
Weight: 733kg (FIA mininum; incl. driver and lubricants, tank empty)
Powertrain
Designation: Mercedes-AMG F1 M09 EQ Power+
Type: Turbocharged, 90° 1.6l V6, assisted with kinetic and heat ERS
No of valves: 24 (4 per cylinder)
Fuel injection: High-pressure direct injection (max 500 bar, one injector/cylinder)
Pressure charging: Single-stage compressor and exhaust turbine on a common shaft
Bore: 80mm
Stroke: 53mm
Crank height: 90mm (minimum allowed)
Energy recovery system: Integrated Hybrid energy recovery via electrical Motor Generator Units
Energy Store: Lithium-Ion battery solution, between 20 and 25 kg
Fuel: PETRONAS Primax
Lubricants: PETRONAS Syntium
Gearbox & hydraulic oil: PETRONAS Tutela
Power: In excess of 950bhp
---
---