Ferrari SF71H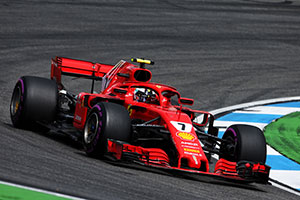 Active: 2018
Team: Scuderia Ferrari SpA

Team: Mattia Binotto (CTO), Simone Resta (CD), Loic Bigois (HA), David Sanchez (CA), Jock Clear (ED), Corrado Onorato (DCD), Rory Byrne (Tech Advisor), Massimo Rivola (SD), Matteo Togninalli (CRE), Maurizio Arrivabene (TP), Sergio Marchionne (Chairman)
Drivers: Sebastian Vettel (5), Kimi Raikkonen (7), Esteban Gutierrez (reserve)
The SF71H (the code name for the 669 project) is the sixty fourth single-seater car designed and produced by Ferrari to compete in the Formula 1 World Championship. The car was launched online on 22 February, followed by a filming day on 25 February, a single day before testing kicked off at Circuit de Catalunya, Spain.
Rule changes introduced for 2017 led to the introduction of significant aerodynamic modifications and wider tyres, all aimed at increasing performance. Therefore the new 2018 Ferrari F1 car was created to make the most of the experience gained during 2017.
Compared to 2017's Ferrari SF70H, the wheelbase has increased slightly, with the side dimensions also revised along with the cooling system. The suspension follows the tried and tested practice of using push-rods at the front and pull-rods at the rear, however, their design has been updated based on experience gained during the first season running the wider tyres.
Like on all 2018 cars, the SF71H features the Halo, a titanium bar above the cockpit to protect the driver in case of a crash. The structure weighs approximately 7kg, excluding attachment points while the minimum total car weight has only gone up by 5kg, therefore requiring the team to make weight reductions elsewhere.
Specifications
Chassis: Carbon-fibre monocoque
Front suspension: Upper and lower wishbones, inboard springs and dampers actuated by push-rods
Rear suspension: Upper and lower wishbones, inboard springs and dampers actuated by pull-rods
Dampers: ZF Sachs Race Engineering
Brakes: Brembo callipers and carbon fibre pads and discs
Transmission: Ferrari 8-speed quick-shift sequential carbon-cased gearbox, hydraulically activated. Longitudinally mounted
Clutch: Carbon fibre plates, by ZF Sachs
Differential: Servo controlled hydraulic limited-slip differential
Electronics: FIA standard ECU and FIA homologated electronic and electrical system (as provided by MES)
Tyres: Pirelli
Wheels: OZ, magnesium alloy
Dimensions
Height: 950 mm (minus T camera)
Track width: 1,600 mm (front); 1,550 mm (rear)
Weight: 733kg (FIA mininum; incl. driver and lubricants, tank empty)
Powertrain
Designation: Ferrari 062 EVO
Type: turbocharged, 90° 1.6l V6, assisted with kinetic and heat ERS
Valves: 24 (4 per cylinder)
Rev limit: 15,000rpm
Pressure charging: Single turbocharger, unlimited boost pressure (typical maximum 3.5 bar abs due to fuel flow limit)
Bore: 80mm
Stroke: 53mm
Crank height: 90mm
Exhaust: Single exhaust outlet, from turbine on car centre line, along with two outlet pipes connected to the wastegate
Injection: Direct fuel injection, limited to 500bar
Ignition: SKF spark plugs
Weight: Undisclosed (at least 145kg)
Total horsepower: More than 900hp
Energy recovery system: Integrated Hybrid energy recovery via electrical Motor Generator Units
Energy Store: Lithium-Ion battery solution (up to 4MJ per lap), between 20 and 25 kg
Cooling system: Secan/Marston
Fuel and lubricants: Shell
---
---