Williams FW40 Mercedes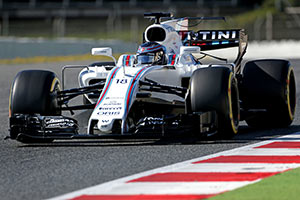 Active: 2017
Team: Williams F1

Team: Rob Smedley (Head of Performance Engineering), Ed Wood (CD), Jakob Andreassen (HE), Steve Nielsen (SM), Claire Williams (DTP), Frank Williams (TP), Mike O'Driscoll (Group CEO)
Drivers: Felipe Massa (19), Lance Stroll (18), Paul Di Resta (Reserve)
Team name: Williams Martini Racing
The Williams FW40 was named after the team's 40th year in Formula One, hence skipping the expected FW39 identification number. The car was revealed online with several pictures on 25th of February before starting winter testing at Circuit de Catalunya 2 days later. The car was designed under the leadership of Pat Symonds, even though he left the team at the end of 2016. The team's long term head of aerodynamics, Jason Somerville, also left the team towards the end of the year, having faced a lot of criticism on the aerodynamic performance of the FW28.
In order to be quick out of the blocks, Williams noted at the time of the launch that it expected that understanding the new wider tyres quickly would be crucial to be, and stay, competitive. The team increased its effort in this area which it hoped would give them a good understanding of the new, more durable rubber.
The driver line-up changed as well, with the team seemingly set on a Bottas - Stroll line-up, until World Champion Nico Rosberg vacated his seat at Mercedes AMG F1. That team requested Bottas' services, which triggered Williams in calling Massa back out of his retirement from F1.
When the car ended up on track for testing, it was visually extremely similar to its predecessor. Apart from its adaptions to a large overhaul in the aerodynamic regulations, the sidepods were of similar shape, as was the nose cone and front wing. The barge board area that allowed a lot more freedom under the 2017 regulations was also moderately exploited. Its performance in the first test wasn't mind blowing either, with Stroll's difficulty to manage the car compounding to the team's problems. A crash on the second day of testing prevented further running due to lack of a spare front wing, while the next day, another crash created a crack in the chassis, forcing the team to skip the final day of the first week of testing.
The second week of testing was a lot more productive for Williams, with the FW40 topping the speed trap repeatedly and Massa often ranked among the fastest. The team's Rob Smedley also went on record to state the team intentionally chose a simple aerodynamic platform. An easier to understand solution following the team's difficulty to get some upgrades on the FW38 to work.
Specifications
Chassis: Carbon-fibre monocoque
Front suspension: Upper and lower wishbones, inboard springs and dampers actuated by push-rods
Rear suspension: Upper and lower wishbones, inboard springs and dampers actuated by pull-rods
Dampers: Williams
Brakes: AP 6 piston front and 4 piston rear calipers with carbon discs and pads
Transmission: Williams eight speed seamless sequential semi-automatic shift plus reverse gear, gear selection electro-hydraulically actuated
Clutch: Carbon fibre plates
Electronics: FIA standard ECU and FIA homologated electronic and electrical system (as provided by MES)
Cooling system: Aluminium oil, water and gearbox radiators
Tyres: Pirelli, Fronts: 305/670-13, Rears: 405/670-13
Wheels: Apptech, forged magnesium alloy
Fuel system: ATL Kevlar-reinforced rubber bladder
Dimensions
Length: Undisclosed
Height: 950 mm (minus T camera)
Width: 2000 mm (FIA maximum)
Track width: 1,600 mm (front); 1,550 mm (rear)
Weight: 728kg (FIA mininum; incl. driver and lubricants, tank empty)
Powertrain
Designation: Mercedes-AMG F1 M08 EQ Power+
Type: Turbocharged, 90° 1.6l V6, assisted with kinetic and heat ERS
No of valves: 24 (4 per cylinder)
Fuel injection: High-pressure direct injection (max 500 bar, one injector/cylinder)
Pressure charging: Single-stage compressor and exhaust turbine on a common shaft
Bore: 80mm
Stroke: 53mm
Crank height: 90mm (minimum allowed)
Energy recovery system: Integrated Hybrid energy recovery via electrical Motor Generator Units
Energy Store: Lithium-Ion battery solution, between 20 and 25 kg
Fuel: PETRONAS Primax
Lubricants: PETRONAS Syntium
Gearbox & hydraulic oil: PETRONAS Tutela
Power: In excess of 950bhp
---
---