Force India VJM11 Mercedes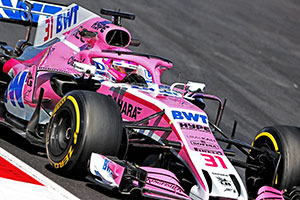 Active: 2018
Team: Force India F1

Team: Andrew Green (TD), Akio Haga (CD), Ian Hall (CD), Tom McCullough (CE), Bob Halliwell (PD), Simon Philips (AD), Andy Stevenson (SD), Otmar Szafnauer (COO), Vijay Mallya (TP), Rob Fernley (DTP)
Drivers Sergio Perez (11), Esteban Ocon (31), Nicholas Latifi (Test)
Partners: BWT, Claro, Duo, Hype, Infinitum, Kingfisher, NEC, Pemex, Telcel, Telmex, Vonhaucke, Adaptavist, Alpinestars, Koni, ITEC
The VJM11 is Sahara Force India's 11th Formula One car, and one that comes on the back of two seasons in which the team finished fourth in the Constructors' Championship. The car was unveiled the morning before the start of winter testing in the paddock at Circuit de Barcelona-Catalunya.
Having had to incorporate the mandatory halo cockpit protection, Force India had to build a new chassis, something the team usually opts not to every other year to save costs. The team's Technical Director, Andy Greene, admitted at pre-season testing that the team was still working hard at its aerodynamic package: "There's a significant downstream effect [from halo], especially around the rear wing area. It's not designed to be an aerodynamic device. It doesn't do us any favours in that department.
"It requires a lot of work to mitigate the issues that it causes, and we're still actively working on that, and I don't think we'll have a solution until Melbourne."
The monocoque changes reportedly cost the team an unplanned €1 million. Similarly, the VJM11 features traditional sidepod inlets, contrary to Williams, Haas and Red Bull following Ferrari's 2017 route with the inlet positioned above a lower mounted side impact structure. This too was attributed to limited budget, with Green claiming that the solution does not offer the conclusive benefits for the team to go down this route, as it would require "a very big structural change to the car".
The team's limited resources had thus limited performance development, resulting in a car that very much resembled its predecessor during pre-season winter testing. In that, it became obvious the team had slipped down the pecking order, with drivers quick to express their disappointment. Updates in the first races also did little to recover their stake in front of the midfield.
Specifications
Chassis: Carbon-fibre monocoque with Zylon side anti-intrusion panels
Front suspension: Aluminium alloy uprights with carbon fibre wishbones, inboard torsion springs, dampers and anti-roll bar assembly, actuated by push-rods
Rear suspension: Aluminium alloy uprights with carbon fibre wishbones, inboard hydro-mechanical springs, dampers and anti-roll bar assembly, actuated by pull-rods
Dampers: Koni
Brakes: AP Racing callipers (920E) with Carbon Industries carbon fibre pads and discs
Transmission: Mercedes AMG F1 8-speed quick-shift sequential carbon-cased gearbox, hydraulically activated. Longitudinally mounted
Clutch: Carbon fibre plates (by AP Racing)
Electronics: FIA standard ECU and FIA homologated electronic and electrical system (as provided by MES)
Steering wheel: Sahara Force India F1
Tyres: Pirelli
Wheels: BBS, forged magnesium alloy
Dimensions
Height: 950 mm (minus T camera)
Track width: 1,600 mm (front); 1,550 mm (rear)
Weight: 728kg (FIA mininum; incl. driver and lubricants, tank empty)
Powertrain
Designation: Mercedes-AMG F1 M09 EQ Power+
Type: Turbocharged, 90° 1.6l V6, assisted with kinetic and heat ERS
No of valves: 24 (4 per cylinder)
Fuel injection: High-pressure direct injection (max 500 bar, one injector/cylinder)
Pressure charging: Single-stage compressor and exhaust turbine on a common shaft
Bore: 80mm
Stroke: 53mm
Crank height: 90mm (minimum allowed)
Energy recovery system: Integrated Hybrid energy recovery via electrical Motor Generator Units
Energy Store: Lithium-Ion battery solution, between 20 and 25 kg
Fuel: PETRONAS Primax
Lubricants: PETRONAS Syntium
Gearbox & hydraulic oil: PETRONAS Tutela
Power: In excess of 950bhp
---
---