McLaren MCL33 Renault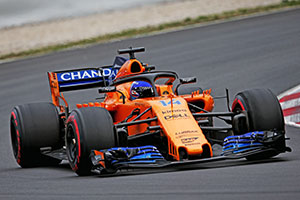 Active: 2018
Team: McLaren International Ltd

Team: Eric Boullier (RD), Jonathan Neale (COO), Neil Oatley (Director of Design & Development), Tim Goss (TD), Simon Roberts (OD), Matt Morris (Engineering Director), Peter Prodromou (CE), Paul James (TM), Guillaume Cattelani (HA), Stephen Watt (Head of Engineering), Marianne Hinson (Head of Aerodynamic Design and Technology), Christian Schramm (Head of Racing Technology), Philip Prew (CE), Mark Ingham (Head of Design), Kari Lammenranta (CM)
Drivers: Fernando Alonso (14), Stoffel Vandoorne (2)
Team name: McLaren Honda
The McLaren MCL33 is a crucial car in the existence of McLaren, as on the back of three dismal years with the Honda power unit, the team switched to Renault power units to have more certainty of a reliable and performing engine in the back of the car. Having lost numerous sponsors the year before, CEO Zak Brown managed to secure new deals with Dell, Airgain, Petrobras, CNBC and Kimoa (also Fernando Alonso's personal clothing partner).
To highlight the change, McLaren boosted its campaign with "BeBrave", a word that was set to indicate the challenge ahead for the team. On top of that, the MCL33 is painted in Papaya Orange, following several years of fan's requests for the team to do so.
Racing Director Eric Boullier perhaps summarized it best at the car's launch: "The design, engineering and aerodynamic departments have done an incredible job delivering a new car with a new power unit in an extremely short timeframe. We never took the easy route or looked to shortcut a process or a solution; and the result is a car that is neat and well-resolved.
"That said, we are under no illusions that it will be difficult to splinter the hegemony at the front; and that the midfield will be full of well-funded, experienced outfits with plenty to prove. We are humble about the challenge ahead, but feel we've prepared well, have a solid package that we can build upon and exploit as the season progresses, and have two excellent drivers who will make the difference in races."
Even though the team's CTO, Tim Goss, admitted the engine change was a big deal, the team did finish its car in time for its online reveal on 23 February, while at the same time the car made its track debut at Navarra in the hands of Fernando Alonso, who on 26 February was also the first to drive it at Circuit de Catalunya, where official winter testing kicked off.
That winter test certainly didn't go according to the team's targets, which were set at 500km per day of testing. Weather interfered in the first test, but a dropped wheel on day 2, and some overheating around the turbo on day 4 of the first test at least put some clouds over the team's preparations for the season. Test 2 start off worse still, with Vandoorne stopping out on track twice.
Specifications
Chassis: Carbon-fibre composite monocoque, incorporating driver controls and fuel cell
Front suspension: Carbon-fibre wishbone and pushrod suspension elements operating inboard torsion bar and damper system
Rear suspension: Carbon-fibre wishbone and pushrod suspension elements operating inboard torsion bar and damper system
Dampers: Sachs Race Engineering
Brakes: Carbon fibre pads and discs, Akebono brake calipers and master cylinders; Akebono 'brake by wire' rear brake control system
Transmission: McLaren 8-speed electro-hydraulically operated seamless shift sequential carbon-cased gearbox, longitudinally mounted
Clutch: Electro-hydraulically operated, carbon multi-plate (by AP Racing)
Differential: Epicyclic differential with multi-plate limited slip clutch
Electronics: McLaren Applied Technologies. Including chassis control, power unit control, data acquisition, alternator, sensors, data analysis and telemetry
Cooling system: Calsonic Kansei water and oil cooling
Steering: Power-assisted rack and pinion
Steering wheel: McLaren Applied Technologies dashboard
Tyres: Pirelli
Wheels: Enkei, magnesium alloy
Paint: AkzoNobel Car Refinishes system using Sikkens products
Lubricants and fluids: BP Castrol (despite Petrobas sponsorship)
Fuel: BP Castrol (despite Petrobas sponsorship)
Dimensions
Height: 950 mm (minus T camera)
Weight: 733kg (FIA mininum; incl. driver and lubricants, tank empty)
Weight distribution: between 45.4% and 46.4% (as limited by the regulations)
Powertrain
Designation: Renault R.E.18
Type: Turbocharged, 90° 1.6l V6, assisted with kinetic and heat ERS
Valves: 24 (4 per cylinder)
Rev limit: 15,000rpm
Pressure charging: Single turbocharger, unlimited boost pressure (typical maximum 3.5 bar abs due to fuel flow limit)
Bore: 80mm
Stroke: 53mm
Crank height: 90mm
Construction: Cylinder block in aluminium
Exhaust: Single exhaust outlet, from turbine on car centre line
Injection: Direct fuel injection, limited to 500bar
Weight: Undisclosed (at least 145kg)
Total horsepower: More than 950bhp (as claimed by Renault Sport)
Energy recovery system: Energy Recovery Systems incorporating two motor generator units – the MGU-H, recovering energy from the exhaust and the MGU-K recovering energy from braking
Energy Store: Battery solution (up to 4MJ per lap), between 20 and 25 kg
---
---