Haas VF-18 Ferrari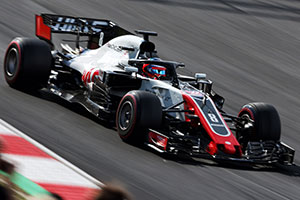 Active: 2018
Team: Haas F1 Team

Team: Phil Dixon (HVP), Ayao Komatsu (CRE), Steve Fraser (HEL), Gene Haas (Chairman), Peter J. Crolla (TM), Gunther Steiner (TP)
Drivers Romain Grosjean (8), Kevin Magnussen (20)
The Haas VF-18 was the first car of 2018 to be revealed to the public, with the team surprising everyone by releasing digital renderings of its car on 14 February, without previous notification. Before that, the car was fired up for the first time on 9 February.
Basically, the car is an evolution of the VF-17, which turned out to be quite competitive at some events, but completely off the pace at others.
"The biggest part of the car's evolution was the addition of the halo. It took quite a bit of study by the aerodynamicists, but the designers had to work hard to modify the chassis so the halo could survive the mandated loads. The total minimum weight of the car increased because of the halo, and there's a higher centre of gravity simply because of the halo's position. But, everyone is in the same boat," said Gunther Steiner, team principal of Haas F1 Team.
"The regulations stayed pretty stable between 2017 and 2018, so the VF-18 is an evolution of our car from last year. It's less about reinvention and more about refinement. You see elements we had from last year on the car this year," added Steiner.
"Our 2017 car was actually pretty good, but we didn't always get the best out of it, and that's what we aimed to change in 2018. We got the car as light as possible to carry more ballast. We were able to do a better job of putting the weight where we wanted it," he explained.
Like in 2017, the chassis is designed and built by Dallara, while the team has a far-reaching technical partnership with Ferrari that ensures the availability of 2018-spec Ferrari power units. The team is also using a Ferrari gearbox, shares suspension elements and has its nose section heavily inspired by what Ferrari is designing. The sidepods similarly feature some Ferrari DNA, as the team opted to have its sidepod air inlet wide and narrow, at the top of the sidepod. This works in combination with a lowered position of the upper side impact crash structure to provide better airflow around the sidepods and onto the rear, to provide more rear downforce.
Specifications
Chassis: Carbon-fibre monocoque
Front suspension: Upper and lower wishbones, inboard springs and dampers actuated by push-rods
Rear suspension: Upper and lower wishbones, inboard springs and dampers actuated by pull-rods
Dampers: ZF Sachs Race Engineering
Brakes: Six-piston callipers and carbon fibre pads and discs
Transmission: Ferrari 8-speed quick-shift sequential carbon-cased gearbox, hydraulically activated. Longitudinally mounted
Clutch: Carbon fibre plates, by AP Racing
Differential: Servo controlled hydraulic limited-slip differential
Electronics: FIA standard ECU and FIA homologated electronic and electrical system (as provided by MES)
Steering: Ferrari
Tyres: Pirelli
Wheels: OZ, magnesium alloy
Dimensions
Height: 950 mm (minus T camera)
Track width: 1,600 mm (front); 1,550 mm (rear)
Weight: 733kg (FIA mininum; incl. driver and lubricants, tank empty)
Powertrain
Designation: Ferrari 062
Type: turbocharged, 90° 1.6l V6, assisted with kinetic and heat ERS
Valves: 24 (4 per cylinder)
Rev limit: 15,000rpm
Pressure charging: Single turbocharger, unlimited boost pressure (typical maximum 3.5 bar abs due to fuel flow limit)
Bore: 80mm
Stroke: 53mm
Crank height: 90mm
Exhaust: Single exhaust outlet, from turbine on car centre line, along with two outlet pipes connected to the wastegate
Injection: Direct fuel injection, limited to 500bar
Ignition: SKF spark plugs
Weight: Undisclosed (at least 145kg)
Total horsepower: More than 900hp
Energy recovery system: Integrated Hybrid energy recovery via electrical Motor Generator Units
Energy Store: Lithium-Ion battery solution (up to 4MJ per lap), between 20 and 25 kg
Cooling system: Secan/Marston
Fuel and lubricants: Shell
---
---