McLaren MCL32 Honda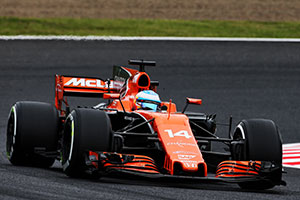 Active: 2017
Team: McLaren International Ltd

Team: Eric Boullier (RD), Jonathan Neale (COO), Neil Oatley (Director of Design & Development), Tim Goss (TD), Simon Roberts (OD), Matt Morris (Engineering Director), Peter Prodromou (CE), Paul James (TM), Guillaume Cattelani (HA), Stephen Watt (Head of Engineering), Marianne Hinson (Head of Aerodynamic Design and Technology), Christian Schramm (Head of Racing Technology), Philip Prew (CE), Mark Ingham (Head of Design), Kari Lammenranta (CM)
Drivers: Fernando Alonso (14), Stoffel Vandoorne (2)
Team name: McLaren Honda
McLaren revealed its MCL32 on 24 February in a launch event at its headquarters that was streamed live worldwide. The team dropped its MP4 naming scheme and introduced orange to its car, underlining the change that McLaren was undergoing.
Two very difficult years were set to be forgotten with the MCL32, as Honda had promised considerable gains through the introduction of a new engine architecture, having discovered that its turbo was simply too small to recover enough energy from the exhaust gases. However, a later documentary revealed that by the time of the launch, some worries already popped up, as the team initially had trouble fitting the engine onto the chassis, before struggling to get the power unit started. In fact, the start up failed repeatedly, despite Honda software updates, until it was decided to kick start it manually.
Car build was also late, with the car presented at launch not finished under the hood. One hour after the launch, the car went back to the workshop to remove the bodywork and continue the build. The team at the time only had one car available as well, contrary to its original plan to build one car for the launch, and one for testing had also gone wrong.
Still, three days after the unveiling, McLaren was present at Circuit de Catalunya to start testing, only to discover numerous issues with the power unit. The first day, Alonso completed just a single lap, before the team realised an engine change was needed. On day 2, another engine change was needed, with day 3 seeing limited running once again, later also attributed to engine problems.
Honda's Yusuke Hasegawa later revealed that the main issues encountered were due to the Japanese underestimating the integration issues in the car, which were pulling considerably higher G-forces due to them being wider, and using bigger tyres.
McLaren meanwhile remained adamant that its chassis was competitive, with Alonso consistently pointing towards the power unit, as of the first test. The car's unique and compact design were proved to be aerodynamically effective, as the team claimed GPS traced showed the car to be very competitive in higher speed sections, while admitting some work needed to be done to enhance performance in low speed behaviour.
The troubles continued into the season, with numerous retirements and frequent grid penalties as the team had to replace various power unit components out of their allowed amount in the season. It was only at Baku when Alonso managed to score the team's first point of the season while Vandoorne only managed to do so at Hungary, nearly halfway through the season. McLaren ended its dismal 2017 campaign with 30 points, just 2 more than in their first year with engine partner Honda.
Specifications
Chassis: Carbon-fibre composite monocoque, incorporating driver controls and fuel cell
Front suspension: Carbon-fibre wishbone and pushrod suspension elements operating inboard torsion bar and damper system
Rear suspension: Carbon-fibre wishbone and pushrod suspension elements operating inboard torsion bar and damper system
Dampers: Sachs Race Engineering
Brakes: Carbon fibre pads and discs, Akebono brake calipers and master cylinders; Akebono 'brake by wire' rear brake control system
Transmission: McLaren 8-speed electro-hydraulically operated seamless shift sequential carbon-cased gearbox, longitudinally mounted
Clutch Electro-hydraulically operated, carbon multi-plate
Differential: Epicyclic differential with multi-plate limited slip clutch
Electronics: McLaren Applied Technologies. Including chassis control, power unit control, data acquisition, alternator, sensors, data analysis and telemetry
Steering: Power-assisted rack and pinion
Steering wheel: McLaren Applied Technologies dashboard
Tyres: Pirelli
Wheels: Enkei, magnesium alloy
Paint: AkzoNobel Car Refinishes system using Sikkens products
Lubricants and fluids: BP Castrol
Fuel: BP Castrol
Dimensions
Height: 950 mm (minus T camera)
Weight: 728kg (FIA mininum; incl. driver and lubricants, tank empty)
Weight distribution: between 45.3% and 46.3% (as limited by the regulations)
Powertrain
Designation: Honda RA617H
Type: turbocharged, 90° 1.6l V6, assisted with kinetic and heat ERS
Valves: 24 (4 per cylinder)
Rev limit: 15,000rpm
Pressure charging: Single turbocharger, unlimited boost pressure (typical maximum 3.5 bar abs due to fuel flow limit)
Bore: 80mm
Stroke: 53mm
Crank height: 90mm
Exhaust: Single exhaust outlet, from turbine on car centre line
Injection: Direct fuel injection, limited to 500bar
Weight: Undisclosed (at least 145kg)
Energy recovery system: Integrated Hybrid energy recovery via electrical Motor Generator Units
Energy Store: Lithium-Ion battery solution (up to 4MJ per lap), between 20 and 25 kg
---
---