Ferrari SF70H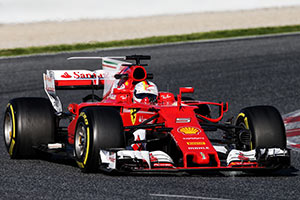 Active: 2017
Team: Scuderia Ferrari SpA

Team: Mattia Binotto (CTO), Simone Resta (CD), Loic Bigois (HA), David Sanchez (CA), Jock Clear (ED), Corrado Onorato (DCD), Rory Byrne (Tech Advisor), Massimo Rivola (SD), Matteo Togninalli (CRE), Maurizio Arrivabene (TP), Sergio Marchionne (Chairman)
Drivers: Sebastian Vettel (5), Kimi Raikkonen (7), Esteban Gutierrez (reserve)
The 63rd single-seater designed and built by Scuderia Ferrari to take part in the Formula 1 World Championship is born out of a regulation change that is without precedent in this category of motor sport. Generally, in the past, regulations went in the direction of slowing down the cars. However, this year, the rule changes go in the opposite direction, meaning the cars have more aerodynamic downforce and more mechanical grip.
There are several differences between the 668 project and Ferraris from the recent past: the lengthened nose and the arrow-shaped wing are a consequence of the regulations, as is the obvious fin on the engine cover and the more complex aero appendages ahead of the air intakes on the sidepods, whose unusual shape was designed in harmony with the front crash structure. Visible at the front is a duct that has an aerodynamic role, while behind the driver, the roll-hoop, which incorporates the engine air intake has been completely redesigned. Also updated is the suspension layout, which still retains a push rod design at the front with pull rods at the rear. The hubs and wheel nuts have been redesigned to facilitate the work of the mechanics when changing wheels during the pit stops. Finally, also as a function of the expected increase in performance this year, the power-steering and braking systems have been upsized.
On the aerodynamic side, Ferrari opted to concentrate on the bargeboard and sidepod entry area, creating an very unique solution with wide air inlets high above the car's floor and completely integrated with the usual aerodynamic panels that are positioned in this area to control airflow to the back of the car.
In contrast to the aerodynamics, when it comes to the power unit, there have been few changes to the regulations. The main one concerns the amount of fuel that can be used by each car during the race: with the predicted increase in performance, with a bigger percentage of each lap spent at full revs, the permitted amount of fuel has increased from 100 to 105 Kg, although the flow rate is still fixed at 100 kg/hour.
The 062 engine is a definite step forward compared to its predecessor, when it comes to chasing performance. The layout of some of the mechanical components on the hybrid power unit has been revised, while other areas maintain a similar layout to the 2016 car. On the sporting regulation front, the abolition of the "Token" system allows the teams more room for development over the course of the season.
For more details about the technical changes, check the technical analysis.
Specifications
Chassis: Carbon-fibre monocoque
Front suspension: Upper and lower wishbones, inboard springs and dampers actuated by push-rods
Rear suspension: Upper and lower wishbones, inboard springs and dampers actuated by pull-rods
Dampers: ZF Sachs Race Engineering
Brakes: Brembo callipers and carbon fibre pads and discs
Transmission: Ferrari 8-speed quick-shift sequential carbon-cased gearbox, hydraulically activated. Longitudinally mounted
Clutch: Carbon fibre plates, by ZF Sachs
Differential: Servo controlled hydraulic limited-slip differential
Electronics: FIA standard ECU and FIA homologated electronic and electrical system (as provided by MES)
Tyres: Pirelli
Wheels: OZ, magnesium alloy
Dimensions
Height: 950 mm (minus T camera)
Track width: 1,600 mm (front); 1,550 mm (rear)
Weight: 728kg (FIA mininum; incl. driver and lubricants, tank empty)
Powertrain
Designation: Ferrari 062
Type: turbocharged, 90° 1.6l V6, assisted with kinetic and heat ERS
Valves: 24 (4 per cylinder)
Rev limit: 15,000rpm
Pressure charging: Single turbocharger, unlimited boost pressure (typical maximum 3.5 bar abs due to fuel flow limit)
Bore: 80mm
Stroke: 53mm
Crank height: 90mm
Exhaust: Single exhaust outlet, from turbine on car centre line, along with two outlet pipes connected to the wastegate
Injection: Direct fuel injection, limited to 500bar
Ignition: SKF spark plugs
Weight: Undisclosed (at least 145kg)
Total horsepower: More than 900hp
Energy recovery system: Integrated Hybrid energy recovery via electrical Motor Generator Units
Energy Store: Lithium-Ion battery solution (up to 4MJ per lap), between 20 and 25 kg
Cooling system: Secan/Marston
Fuel and lubricants: Shell
---
---