Sahara Force India VJM10 Mercedes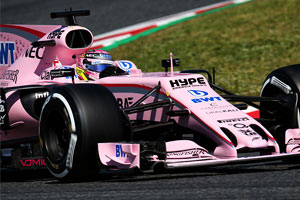 Active: 2017
Team: Force India F1

Team: Andrew Green (TD), Akio Haga (CD), Ian Hall (CD), Tom McCullough (CE), Bob Halliwell (PD), Simon Philips (AD), Andy Stevenson (SD), Otmar Szafnauer (COO), Vijay Mallya (TP), Rob Fernley (DTP)
Drivers Sergio Perez (11), Esteban Ocon (31), Alonso Celis (Test)
The VJM10 marks the 10th year of competition in Formula One for Sahara Force India. It succeeds the VJM09, which had been the most successful car in the history of the team. However, the big regulation changes that were introduced meant little could be carried over to the new car.
The car was launched on 22 February in the team's traditional silver and orange colours. It was only on 14 March, after pre-season testing, that the team revealed the signature of BWT, a new major sponsor for the team. The deal with the water technology company meant a radical switch to a bright pink livery with also both the team's racing drivers to use pink helmets for the duration of the season.
The VJM10 is the team's first for which the monocoque chassis was constructed in-house. The change was marked as a large improvements for the team, with which it claimed it has gained as significant amount of time, while, according to Otmar Szafnauer, also resulting "in the best quality chassis" the team ever product. The team had also expanded its machining shop to allow for greater freedom to control the production of the mechanical components".
Aerodynamically, the car was still largely developed at TMG's windtunnel in Koln, Germany: "It's an important step forward and means we have complete control of both scheduling and quality. It saved us a significant amount of time and I'd go as far as saying that these are the best quality chassis we've ever produced. We've also expanded our machine shop capability, which gives us greater freedom to control the production of some of the mechanical components."
The car features some visual resemblance to its predecessor, retaining the unique nostrils in the nose as the most obvious element, and a rather blunt kink on the upper surface when the nose cone meets the monocoque. The car has a familiar sidepod shape and copies Mercedes' wide airbox solution of 2016 to house the Mercedes engine for the 9th year in a row. Other that this, the car's looks are defined by the regulatory changes. More in the car's launch analysis.
Specifications
Chassis: Carbon-fibre monocoque with Zylon side anti-intrusion panels
Front suspension: Aluminium alloy uprights with carbon fibre wishbones, inboard torsion springs, dampers and anti-roll bar assembly, actuated by push-rods
Rear suspension: Aluminium alloy uprights with carbon fibre wishbones, inboard hydro-mechanical springs, dampers and anti-roll bar assembly, actuated by pull-rods
Dampers: Koni
Brakes: AP Racing callipers (920E) with Carbon Industries carbon fibre pads and discs
Transmission: Mercedes AMG F1 8-speed quick-shift sequential carbon-cased gearbox, hydraulically activated. Longitudinally mounted
Clutch: Carbon fibre plates
Electronics: FIA standard ECU and FIA homologated electronic and electrical system (as provided by MES)
Steering wheel: Sahara Force India F1
Tyres: Pirelli
Wheels: BBS, forged magnesium alloy
Dimensions
Height: 950 mm (minus T camera)
Track width: 1,600 mm (front); 1,550 mm (rear)
Weight: 728kg (FIA mininum; incl. driver and lubricants, tank empty)
Powertrain
Designation: Mercedes-AMG F1 M08 EQ Power+
Type: Turbocharged, 90° 1.6l V6, assisted with kinetic and heat ERS
No of valves: 24 (4 per cylinder)
Fuel injection: High-pressure direct injection (max 500 bar, one injector/cylinder)
Pressure charging: Single-stage compressor and exhaust turbine on a common shaft
Bore: 80mm
Stroke: 53mm
Crank height: 90mm (minimum allowed)
Energy recovery system: Integrated Hybrid energy recovery via electrical Motor Generator Units
Energy Store: Lithium-Ion battery solution, between 20 and 25 kg
Fuel: PETRONAS Primax
Lubricants: PETRONAS Syntium
Gearbox & hydraulic oil: PETRONAS Tutela
Power: In excess of 950bhp
---
---