Ferrari F92AT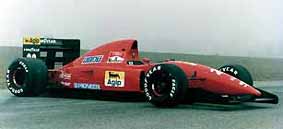 Active: 30-08-1992 - 1992
Team: Scuderia Ferrari SpA

Team: Steve Nichols (TD), Jean-Claude Migeot (CD)
Drivers: Jean Alesi (27), Ivan Capelli (28), Nicola Larini (28)
The F92AT was an updated Ferrari F92A, designed to compete in the final 5 races of the 1992 season. Its name comes from the transverse mounting of the car's new 7-speed gearbox, contrary to a 6-speed longitudinally mounted one on the F92A. The car also featured a more rigid engine mounting and revised front suspension.
The changes weren't backed by Jean-Claude Migeot, the designer of the original F92A, as he later pointed out in an interview in 2020: "The gearbox was more compact, but also wider, so it ruined the passage of airflow in the two channels underneath the car. In short, we were getting slower and slower".
The car was first tested privately at Monza, following which it made its Grand Prix debut at the Belgian Grand Prix at Spa-Francorchamps. In its first 3 races, both drivers recorded a DNF. After that, Ivan Capelli was replaced by Nicola Larini for the two remaining races of the season, with Larini driving a version that featured Ferrari's first attempt at an active suspension system, thereby adding 30kg to the car's weight. Alesi managed to finish the final two races in the points, recording a 5th place finish at Japan and a 4th place in Australia.
Together with the points scored by the F92A, Ferrari ended the season in 4th place in the Constructors' Championship, totalling 21 points.
Specifications
Internal name: Ferrari 644
Gear Ratios: Variable depending on track
Chassis: Composite: carbon-fibre honeycomb
Front Suspension: Torsion arms
Rear Suspension: Torsion arms
Brakes: Ventilated carbon-fibre discs
Tyres: 13" front and rear, Goodyear
Transmission: Rear-wheel drive, longitudinal semi-automatic 6-speed gearbox + reverse with electronic management, limited-slip differential
Dimensions
Length: 4,350 mm
Width: 2,135 mm
Height: 978 mm
Front Track: 1,810 mm
Rear Track: 1,678 mm
Weight: 505 kg (with water and oil)
Engine
Designation: Type E1 A-92
Type: Rear-mounted 65° V12
Unitary and Total Displacement: 291.49/3,497.96 cc
Max. Power Output: 700 bhp
Timing Gear: 5 valves per cylinder
Fuel Feed: Weber-Marelli electronic digital injection
Ignition: Electronic, Magneti Marelli static
Lubrication System: Dry sump
---
---