Andrea Moda C4B Judd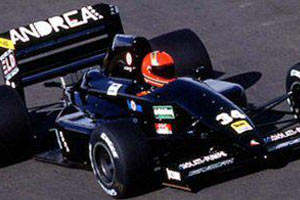 Active: 01-03-1992
Team: Andrea Moda Formula

Designer: Christian Vanderpleyn, Paul Burgess
Drivers: Alex Caffi (34), Enrico Bertaggia (35)
Because the new Andrea Moda team didn't have their new chassis ready, they brought two old Coloni cars to the first Grand Prix of the season. Alex Caffi and Enrico Bertaggia were named as the drivers but the team was excluded for not having paid the $100,000 deposit for new teams in the World Championship. Team owner Sassetti argued that it was not a new team as he had simply taken over the Coloni team and not formed a new one.
The C4B retained the frame and front suspension of the Coloni C4, but it was powered by the Judd GV block, the same ones that were ran by BMW Scuderia Italia in 1991 on their Dallara 191. The engine was far superior to the Ford Cosworth DFR V8 that powered the C4, producing nearly 750hp while being 25kg less.
Team owner Andrea Sassetti also bought Scuderia Italia's rear suspension and their semi-automatic 6-speed gearbox. All these used component were then put together by students at the University of Perugia, under guidance of Paul Burgess.
It is unclear though whether two of these cars really existed, as only a car with number "34" was photographed in the garage and on the track. In fact, Caffi ran the car ahead of pre-qualifying at the South African GP for just a few laps before it broke down. Enrico Bertaggia never ran it at the event.
At the next Grand Prix, held at Mexico, the team already took their new Andrea Moda S921 chassis and therefore ended the life of the unraced C4B, which essentially is a repainted Coloni C4, fitted with a different engine.
Specifications
Gearbox: 6-speed, Coloni L
Tyres: Goodyear
Brakes: Carbone Industrie / Brembo
Dimensions
Wheelbase: 2850 mm
Front track: 1810 mm
Rear track: 1670 mm
Weight: 530 kg
Engine
Designation: Judd GV
Type: 72° V10, naturally aspirated
Capacity: 3496 cc
Power: 750hp @ 13500rpm
---
---