Lotus 102D Ford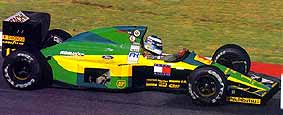 Active: 01-03-1992 - 17-05-1992
Team: Team Lotus

Team: Frank Dernie (CD)
Drivers: Mika Häkkinen (11), Johnny Herbert (12)
The 102D is a modified 102B, designed only to fit the Ford HBA5 3.5 V8 engine until the team managed to finish its new 107 chassis.
It was run by the team in the first 5 races of the 1992 Formula One season. Johnny Herbert and Mika Häkkinen each scored a single point by finishing 6th, while they added another 11 points in the remaining races of the season with the car's successor.
The car last raced at the Spanish Grand Prix, recording a double DNF. It was used by Häkkinen at the next race as well, but he failed to qualify there, before he also got a 107 chassis at the Monaco Grand Prix.
---
---