McLaren MP4-7A Honda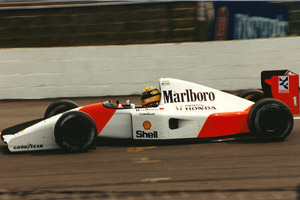 Active: 1992
Team: McLaren International Ltd

Designers: Neil Oatley, Henri Durand, David North, Matthew Jeffreys, Dave Neilson
Drivers: Ayrton Senna (1), Gerhard Berger (2)
The McLaren MP4/7A was the follow-up of the successful MP4/6 from the 1991 season. McLaren planned that the all-new MP4/7A would make its debut during the fourth race of the season, the Spanish Grand Prix. But due to the speed of the Williams car during pre-season testing, Ron Dennis decided to bring out the new car one race earlier at Brazil, one month earlier than previously planned.
The MP4/7A was the first McLaren with a semi-automatic transmission. The tranmission was a McLaren-designed electro-hydraulic unit with semi-automatic activation. The new system allowed the drivers to keep their foot on the pedal as the throttle cable was replaced with an electronic sensor. It also contolled the engine speed automatically during gear changes.
The McLaren team was unable to win the Constructors' or Drivers' Championship in 1992 but collected five Grand Prix victories. Three for Ayrton Senna and two for team mate Gerhard Berger.
Chassis
Front suspension: Unequal-length wishbones, pushrod operating horizontal spring/dampers
Rear suspension: Unequal-length wishbones, pushrod operating horizontal spring/dampers
Suspension dampers: Showa
Wheel diameter: front: 13 inch / rear: 13 inch
Wheel rim widths: front: 12 inch / rear: 16.3 inch
Tyres: Goodyear
Brakes: Brembo/Carbone Industrie
Brake pads: Carbone Industrie
Steering: McLaren
Radiators: McLaren/Calsonic
Fuel tanks: ATL
Battery: Yuasa
Instruments: Honda
Transmisson
Gearbox: McLaren six-speed transverse semi-automatic
Driveshafts: McLaren
Clutch: AP
Dimensions
Wheelbase: 117.1 inch/2974mm
Track: front: 71.8 inch/1824mm / rear: 65.7 inch/1670mm
Formula weight: 506kg
Engine
Type: Honda RA122E/B
No. of cylinders: V12 (75°)
Capacity: 3500cc
Fuel and oil: Shell
Sparking plugs: NGK
Fuel injection: Honda PGM/F1
Ignition system: Honda PGM/IG
Weight: 150kg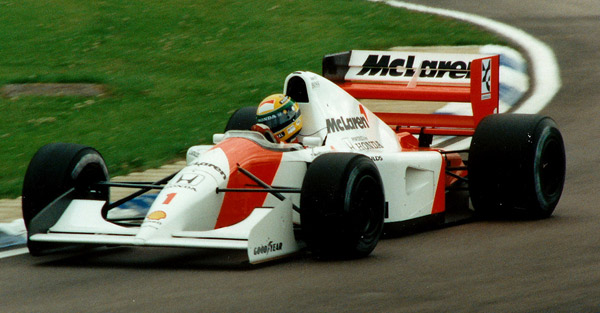 Images by Anthony Fosh
---
---