McLaren MP4-16 Mercedes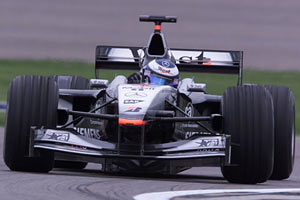 Active: 2001
Team: McLaren International Ltd

Designer: Adrian Newey
Drivers: Mika Häkkinen (3), David Coulthard (4), Alex Wurz (Test)
Team: West McLaren Mercedes
The McLaren MP4-16 was launched on 7 February at the Ricardo Tormo circuit in Valencia, Spain and immediately underwent a shakedown. While David Coulthard was optimistic, saying that this car gave him the best initial impression of all cars he drove, the Scot had to return it to the pits with a mechanical issue, leaving the McLaren team red-faced. The car had by then reportedly completed nearly 100 laps in the two days before that.
Contrary to its 2 predecessors, the car is a complete rethink, required due to regulation changes imposed by the FIA. The front wing was raised 50mm while more stringent crash tests added unavoidable weight to the chassis.
Adrian Newey commented at the launch: "This is a totally new car for the new rules. The main one is the change to the front wing regulations, and this has had quite a knock-on effect on the configuration of the remainder of the car. The 50mm don't seem a great deal, but it has a big impact on the design of the car. In addition, we now have a much smaller rear wing, so there is a major reduction in downforce there too."
"Coupled to that are various primary safety structure changes, including higher roll hoops and new side penetration tests which are largely in response to some F3000 accidents where one car has T-boned another and the nose penetrated the monocoque. We have had to incorporate new side impact tests, further along the cockpit, which has promoted longer sidepods relative to the driver's position behind the wheel."
The most obvious change compared to the McLaren MP4-15 is the return of the high nose, an interesting feature as Ferrari opted to lower the nose for its Ferrari F2001. The team noted that aerodynamic research played a big part in finalising the overall layout of the car, requiring a fairly late launch date. The mechanicals also underwent the usual revisions while the Mercedes engine is said to be an evolution of the 2000 powerplant.
Once on track, it was immediately obvious that McLaren would endure a tough time against Ferrari, with the McLaren proving too fragile. Häkkinen for instance suffered a hydraulic failure in the penultimate lap when leading 40s over Michael Schumacher. Häkkinen struggled through the year and won 2 races, completing his worst season since 1997. David Coulthard on the other hand made it his best and finished second in the championship standings, staying ahead of Rubens Barrichello in the second Ferrari. McLaren finished a distant second in the constructors' championship with 102 points.
Specifications
Chassis: McLaren moulded carbon fibre/aluminium honeycomb composite incorporating front and side impact structures. Contains integral safety fuel cell
Front Suspension: Inboard torsion bar/damper system operated by pushrod and bell crank with a double wishbone arrangement
Rear Suspension: Inboard torsion bar/damper system operated by pushrod and bell crank with a double wishbone arrangement
Dampers: Penske/McLaren
Tyres: Bridgestone
Race Wheels: Enkei
Bodywork: Construction: one-piece sidepod and engine cover. Separate floor section, structural nose
Fuel: Mobil Unleaded
Lubricants: Mobil 1 products
Adhesives: Loctite
Electronics: TAG Electronic Systems control units incorporating electronics for chassis engine and data acquisition. TAG Electronic Systems also supplies the electronic dash board, ignition coils, alternator voltage control, sensors, data analysis and telemetry systems
Radios: Kenwood
Transmission: McLaren longitudinal gearbox with semi-automatic operation. McLaren drive shafts and cv assemblies
Engine
Designation: Mercedes-Benz F0110K
Configuration: 72 degrees V10
Displacement: 2,997 cc
Valves: Four per cylinder, two camshafts per cylinder bank
Cylinder: Block Cast aluminium alloy, wet liners Cylinder head One-piece sand cast aluminium alloy
Crankshaft: Steel
Oil system: Dry sump lubrication
Ignition: TAG Electronic Systems
---
---