Renault R24B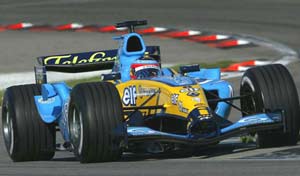 Active: 2004
Team: Renault F1

Designers: Robert Bell (TD), Mark Smith (CD), Dino Toso (CA)
Drivers: Jarno Trulli / Jacques Villeneuve (7), Fernando Alonso (8)
The R24B is largely identical to its predecessor that completed the first 3 Grand Prix' of the 2004 season. The main difference is its engine, which is still the same 72° V10, with that difference that it could produce an extra 500rpm, and therefore more peak power. This was mainly achieved by a new airhapping unit and newly designed cylinder heads.
While Jarno Trulli was the better driver in the beginning of the season, he had some difficult times as of his win at Monaco. A major mistake in the last corner of the race at Magny-Cours cost Jarno a position to Barrichello. Together with an improved performance of his teammate, Jarno fell in disgrace with Renault F1 chief Flavio Briatore who sacked the Italian in favour of former world champion Jacques Villeneuve who was taking a year out of F1. Jarno on the other hand moved to Toyota.
Renault was second in the constructors championship for long through the season but lost that position to BAR Honda. The development of the R24B was quickly stopped in favour of preparing for the championship winning Renault R25.
Specifications
Chassis: Moulded carbon fibre and aluminium honeycomb composite monocoque, manufactured by the Renault F1 Team and designed for maximum strength and stiffness with minimum weight. Engine installed as a fully-stressed member.
Front suspension: Carbon fibre top and bottom wishbones operate an inboard titanium rocker via a pushrod system. This is connected to a torsion bar and damper units which are mounted at the front of the monocoque.
Rear suspension: Carbon fibre top and bottom wishbones operating vertically-mounted torsion bars and horizontally-mounted damper units mounted on the top of the gearbox casing.
Transmission: Six-speed semi-automatic gearbox with one reverse gear.
Fuel system: Kevlar-reinforced rubber fuel cell provides reduced risk of fire and is mounted behind cockpit in chassis monocoque.
Cooling system: Separate oil and water radiators located in the car's sidepods and cooled using airflow from the car's forward motion.
Electrical systems: Renault F1 Team developed chassis electronics and software control items such as gearbox, and the system links to engine management system (Magneti Marelli).
Braking system: Carbon fibre discs and pads (Hitco); calipers by AP Racing.
Cockpit: Removable driver's seat made of anatomically formed carbon composite, with six-point harness seat belt. Steering wheel has gear change and clutch paddles attached.
Dimensions
Front track: 1,450mm
Rear track: 1,400mm
Wheel base: 3,100mm
Overall length: 4,600mm
Overall height: 950mm
Overall width: 1,800mm
Overall weight: 605kg including driver, camera and ballast
Engine
Designation: Renault RS24
Type: Normally aspirated V10, 72 °, 2998 cc
Valves: four pneumatic valves per cylinder
Oil system: dry sump lubrication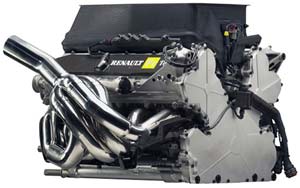 ---
---