Renault R24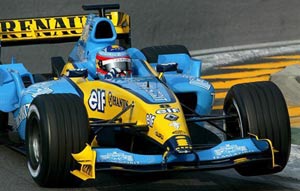 Active: 2004
Team: Renault F1

Designers: Robert Bell (TD), Mark Smith (CD), Dino Toso (CA)
Drivers: Jarno Trulli (7), Fernando Alonso (8)
From the outside, the car can be distinguished by a taller engine cover, and the rear wing, which is limited to two upper elements in order to meet the 2004 regulations. In theory, this configuration brings with it a loss of aerodynamic efficiency close to 6%. However, hard work in the windtunnel more than overcame this deficit.
Of course, the mechanical package includes the new 72° V10 engine. Compared to the R23B with its 111° Renault engine, the centre of gravity is now a little higher than before, but only by a mere 10mm. The engine however produces more peak power and torque than its predecessor. The new 'v' angle permitted much narrower, tighter sidepods at the rear. The engine layout also allows for more stiffness (about 10%) and less weight.
The suspension employs some new materials, but has retained roughly the same geometry as last season. The fuel tank is smaller than in 2003, and the wheelbase has been modified. Finally, the R24 has a 100% titanium 6-speed gearbox, as opposed to a hybrid titanium-carbon construction previously. This change came about to meet the team's stiffness and weight targets.
Specifications
Chassis: Moulded carbon fibre and aluminium honeycomb composite monocoque, manufactured by the Renault F1 Team and designed for maximum strength and stiffness with minimum weight. Engine installed as a fully-stressed member
Front suspension: Carbon fibre top and bottom wishbones operate an inboard titanium rocker via a pushrod system. This is connected to a torsion bar and damper units which are mounted at the front of the monocoque
Rear suspension: Carbon fibre top and bottom wishbones operating vertically-mounted torsion bars and horizontally-mounted damper units mounted on the top of the gearbox casing
Transmission: Six-speed semi-automatic gearbox with one reverse gear
Fuel system: Kevlar-reinforced rubber fuel cell provides reduced risk of fire and is mounted behind cockpit in chassis monocoque
Cooling system: Separate oil and water radiators located in the car's sidepods and cooled using airflow from the car's forward motion
Electrical systems: Renault F1 Team developed chassis electronics and software control items such as gearbox, and the system links to engine management system (Magneti Marelli)
Braking system: Carbon fibre discs and pads (Hitco); calipers by AP Racing
Cockpit: Removable driver's seat made of anatomically formed carbon composite, with six-point harness seat belt. Steering wheel has gear change and clutch paddles attached.
Dimensions
Front track: 1,450mm
Rear track: 1,400mm
Wheel base: 3,100mm
Overall length: 4,600mm
Overall height: 950mm
Overall width: 1,800mm
Overall weight: 605kg including driver, camera and ballast
Engine
Designation: Renault RS24
Type: normally aspirated 72° V10, 2998 cc
Valves: four pneumatic valves per cylinder
Oil system: dry sump lubrication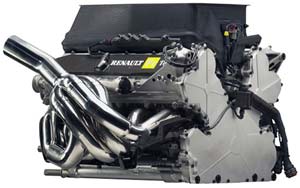 ---
---