BAR 006 Honda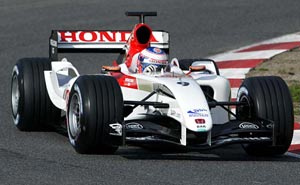 Active: 2004
Team: B.A.R Honda F1

Team: Geoff Willis (TD), David Richards (TP)
Drivers: Jenson Button (9), Takuma Sato (10), Anthony Davidson (Test)
Team name: Lucky Strike B.A.R Honda
Lucky Strike B.A.R Honda aimed to provide a credible challenge to the top three teams with its all-new B.A.R Honda 006 car, launched at Barcelona's Circuit de Catalunya. The car represents another major performance step - one which Team Principal David Richards predicted would be B.A.R fighting for regular podium places in 2004.
The success of last year's car was the result of a dramatic improvement in engineering standards, which enabled the team to move up from eighth to fifth place in the Championship, marking them out as the season's most improved team. A significant evolution of the 005, the B.A.R Honda 006 was a further step forward in design and build quality and the product of a more challenging and innovative approach.
The chassis is stiffer and has a lower centre of gravity, compared to its predecessor. It also features a smaller fuel capacity to reflect the revised qualifying rules and raised pit lane speeds. The biggest single development is the new gearbox. It features a full carbon-composite maincase, together with narrow, lightweight gear ratios which afford a very substantial weight reduction at the rear of the car. There are further weight-saving features throughout, with greater use of MMC (metal matrix composite), innovative upright design, simplified internal suspension components, and a refined and better integrated hydraulics system.
Honda produced a new engine to meet the challenge of the single-engine rule introduced for the first time this season. Although similar in concept to the 2003 unit, it too is a completely revised design, with much smaller dimensions, reduced weight and a lower centre of gravity.
Specifications
Chassis: Carbon/epoxy composite, manufactured by WilliamsF1
Gearbox: B.A.R. full carbon-composite maincase, sequential 7-speed with Honda and Xtrac internals, semi-automatic, hydraulic activation
Clutch: Carbon plate
Dampers: Koni
Battery: 3Ah Lead Acid
Fuel tank: 150L capacity, kevlar reinforced rubber bladder
Wheels: BBS forged aluminium
Tyres: Michelin
Driver's seat: Anatomically formed in carbon/epoxy composite material
Seat belts: Six-point harness (75mm shoulder straps with HANS system)
Battery: 3Ah Lead Acid
Instrumentation: B.A.R steering wheel dash display
Dimensions
Front track: 1,460mm
Rear track: 1,420mm
Wheel base: 3,140mm
Overall length: 4,465mm
Overall height: 950mm
Overall width: 1,800mm
Overall weight: 600kg including driver, camera and ballast
Transmission
Gearbox: B.A.R maincase - 7-speed unit, Honda & XTrac internals
Gear selection: Sequential, semi-automatic, hydraulic activation
Clutch: Carbon plate
Engine
Engine Name: Honda RA004E
Type: Normally Aspirated V10, 90°, 3000 cc
Peak power: over 900 hp
Peak rotations: over 18500 rpm
Ignition system: Honda PGM-IG
Throttle system: Electronic hydraulically-operated system
Valves: 4 pneumatic valves per cylinder
---
---