Ferrari F2005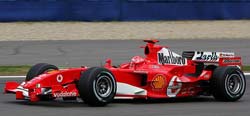 Active: 2005
Team: Scuderia Ferrari SpA

Designer: Aldo CostaDrivers: Michael Schumacher (1), Rubens Barrichello (2)
The F2005 is the fifty first single-seater built by Ferrari specifically to compete in the Formula 1 World Championship. The design, which bears the internal code number 656, represents Ferrari's more exhaustive interpretation of the 2005 technical regulations. The main elements, relating to aerodynamics are more advanced than on the F2004 M.
The chassis is lighter, despite the need to strengthen the lateral anti-intrusion panels within the monocoque to increase its ability to meet the requirements of the crash-test, which is stricter than in the past. The shape has been revised, with modifications to the opening of the side pods and the area around the turning vanes. The side pods have been adapted to accommodate the new cooling system.
The engine cover has been redesigned, as have the aerodynamic devices on the side pods, with a secondary winglet introduced in the area of the roll-hoop. The layout of the exhausts is fundamentally different to that of the previous car, eliminating the aerodynamic profile which characterised the rear section, which is now almost entirely integrated within the bodywork.
While retaining the longitudinal architecture for the transmission, the entire rear end has been changed in an attempt to get the most out of the size of the gearbox, which is smaller than its predecessor and made from titanium and carbon fibre. Naturally, the limitations introduced by the new regulations were taken into account during the design stage.
The rear suspension has been revised, with the twin aims of improving the car's dynamics in order to optimise the efficiency of operation for the Bridgestone tyres, while also improving the aerodynamic efficiency of the rear. The floor of the car has also been substantially redesigned to fit in with the new dimensions of the gearbox and comply with the new regulations. Two areas that benefited from a major effort during the design stage were the braking and electronics systems, this work carried out in conjunction with technical partners.
The 055 engine is load-bearing and mounted longitudinally. Much of the internal componentry derives from the last version of the 053, currently fitted to the F2004 M. The main changes centre on the mounting points to chassis and gearbox. Its designers aimed to come up with an engine able to maintain a sufficient level of performance, doubling its life given that the sporting regulations introduced this year require the use of the same engine for two consecutive race weekends. As always, Shell's help has been invaluable in the definition of fuel and lubricants to best meet the set targets.
The F2005 represents the final evolution in a line of Ferrari Formula 1 cars fitted with a ten cylinder engine. As usual, right from the design stage, much attention was paid to performance and optimisation of the materials used as well as quality control, in order to increase performance levels with maximum safety, all within the framework of the new rules introduced this year.
Specifications
Chassis: Carbon-fibre and honeycomb composite structure
Gearbox: Semi-automatic sequential electronically controlled gearbox 7 gears + reverse
Brakes: Ventilated carbon-fibre disc brakes
Suspension: Independent suspension, push-rod activated torsion springs front and rear
Length: 4545 mm
Width: 1796 mm
Height: 959 mm
Wheelbase: 3050 mm
Front track: 1470 mm
Rear track: 1405 mm
Weight: with water, lubricant and driver 605 kg
Wheels: (front and rear) 13"
Engine: Type 055
Cylinders: 90° V10
Cilinder block: Cast aluminium
Valves: 40 (4 per cylinder), pneumatically distributed
Total displacement: 2997 cm3
Injection: Magneti Marelli digital electronic injection
Ignition: Magneti Marelli static electronic ignition
---
---