Sauber C24 Petronas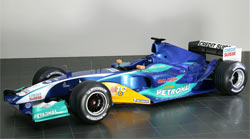 Active: 2005
Team: Sauber F1 Team

Designer: Willy Rampf
Drivers: Jacques Villeneuve (11), Felipe Massa (12)
The C24 is the first Sauber design resulting completely from the team's own wind tunnel. "Our aerodynamicists in particular are highly motivated to prove their know-how and skills," says the team's Technical Director, Willy Rampf.
Their task was particularly demanding this time, given the new FIA requirements aimed at considerably reducing downforce. As such, the front wing must be positioned 50 mm higher, the rear wing is moved forwards by 150 mm, while the height of the diffusor is limited to 125 mm. In addition, the cut-out of the floor in front of the rear tyres has been enlarged. Willy Rampf: "The sum total of these measures has reduced downforce by over 20 per cent. Of course, we are aiming to recapture as much of this downforce as possible. However, in addition to maximum downforce it is also important to achieve high levels of aerodynamic stability."
Unlike its predecessor, the C24 is again fitted with a gearbox designed by Sauber. Higher stiffness along with lower weight and an even more compact design were the requirements Rampf had specified for the engineers, and these requirements have been met.
Another engineering objective was to transfer the Sauber C23's outstanding reliability to the C24. Consequently, a lot of the relevant findings obtained the year before were used in developing the new car. In addition, the stiffness of several components was further increased.
Specification
Chassis: Carbon-fibre monocoque
Engine: PETRONAS 05A 90° V10 (Rebadged Ferrari customer engine)
Suspension: Upper and lower wishbones (front and rear), inboard springs and dampers, actuated by pushrods (Sachs Race Engineering)
Brakes: Six-piston calipers (Brembo), carbon pads and discs (Brembo, Carbone Industrie))
Transmission: Longitudinally mounted, seven-speed gearbox (Sauber), carbon clutch (AP)
Chassis electronics: Magneti Marelli
Tyres: Michelin (front: 27x66x13, rear: 32x66x13)
Wheels: OZ (front: 12,5J-13, rear: 13,7J-13)
Dimensions
Length: 4580 mm
Width: 1800 mm
Height: 1000 mm
Front track: 1470 mm
Rear track: 1410 mm
Wheelbase: 3100 mm
Weight:
600 kg (driveable car, including driver, tank empty)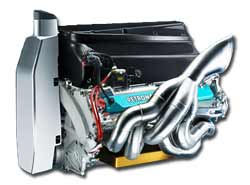 ---
---