B.A.R Honda 007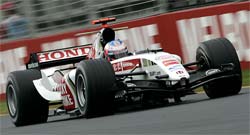 Active: 2005
Team: B.A.R Honda F1

Designer: Geoff Willis (TD)
Drivers: Jenson Button (3), Takuma Sato (4)
Team name: B.A.R. Honda
Much was expected from the 2005 B.A.R Honda 007 car. Its predecessor, after all, scored 11 podium place finishes in 2004, taking B·A·R Honda to second place among the F1 constructors and Jenson Button to third place in the coveted drivers' championship.
The BAR 007 features revised aerodynamics as well as significant engineering advances. These developments have been introduced not only to meet the latest technical regulations as laid down by the sport's governing body but also to increase B.A.R Honda's competitiveness among the F1 elite. As is mostly the case, most developments revolved around changed regulations: the front wing had to be 50mm higher, an engine had to last for 2 GP weekends while tyre changes were banned during the race. As a result, Honda raised the nose slightly and designed its front wing to perfectly match the curvature of the nose. In the back of the car, the sidepods have been tightened to improve rear downforce. A full technical impression can also be found on this website.
At launch time, Chief executive officer Nick Fry focused on the positives: "The B.A.R Honda 007 is another step forward, not only in its design and performance but also because the design and build process went very smoothly. This confirms that the organisational and process changes implemented at B.A.R Honda over the last three years are robust and provide a strong core which enables development of our car through the year and from year to year in pursuit of our goals."
"The B.A.R Honda 007 also marks a new era in the integration of resources and skills between B.A.R, British American Tobacco and Honda following Honda's purchase of 45% of our team," Fry explained. "We believe that this really represents a winning formula."
The 007 was however not capable of equalling the performance of the BAR 006, as it had to deal with several reliability problems during the first half of the season. Even worse, after a routine check of the car's weight after Imola, the team was disqualified in Imola and banned for a further 2 Grand Prix', including the GP of Monaco. The Honda engineers had designed the fuel tank such that the car would pass scrutineering easily before the race but could run underweight during it. As such, the FIA deemed that the car was illegal as it was designed to use fuel as ballast. After the penalty became known, several other teams also had to quickly adapt their systems to make sure their cars were valid with the rulebook. The second half of the season was however better as Button was able to score a streak of point finishes. The team finished the season 6th in the constructors' standings tallying 38 points.
Specifications
Construction: Moulded carbon fibre and honeycomb composite structure that surpasses latest FIA impact and strength regulations
Front suspension: Wishbone & pushrod-activated torsion springs and rockers, mechanical anti-roll bar
Rear suspension: Wishbone & pushrod-activated torsion springs and rockers, mechanical anti-roll bar
Dampers: Showa
Wheels: BBS forged magnesium (front: 312mm wide, rear: 340mm wide)
Tyres: Michelin
Brakes: Alcon (2 x 6-piston calipers in front and back)
Brake discs/pads: Carbon/Carbon
Steering: B.A.R power assisted Rack & Pinion
Steering wheel: B.A.R carbon fibre construction
Driver's seat: Anatomically formed carbon composite
Seat belts: Six-point harness (75mm shoulder straps with HANS system)
Fuel cell: ATL kevlar-reinforced rubber bladder
Fuel capacity: 150 litre
Battery: 3Ah Lead Acid
Instrumentation: B.A.R steering wheel dash display
Gearbox: B.A.R maincase: 7-speed unit, Honda & XTrac internals
Gear selection: Sequential, semi-automatic, hydraulic activation
Clutch: Carbon plate
Dimensions
Front track: 1460mm
Rear track: 1420mm
Wheel base: 3140mm
Overall length: 4675mm
Overall height: 950mm
Overall width: 1800mm
Engine
Designation: Honda RA005E
Configuration: 90° V10, naturally aspirated
Displacement: 3.0litres
Maximum power: Over 900bhp
Maximum revs: Over 18,500 rpm
Valve train: 4 valves per cylinder; pneumatic valve system
Injection system: Honda PGM-FI
Throttle system: Electronic hydraulically-operated system
Ignition system: Honda PGM-IG
---
---