Williams FW27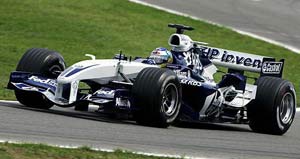 Active: 2005
Team: Williams F1

Designer: Gavin Fisher (design), Loic Bigois (aerodynamics)Drivers: Mark Webber (7), Nick HeidFeld - Antonio Pizzonia (8 )
The Williams FW27 is the first car that was built under the supervision of the team's technical director Sam Michael. This time no special nose like on the FW26 with its tusks, but rather a regular nose cone as on the FW26B that ran at the end of 2004. The car also represents a return to the single keel front suspension and thereby forgets about all innovative things that the FW26 came up with a year earlier.
In race conditions however it appeared that this car did perform even less than its predecessor. Williams struggled with its handling as they did not adopt as well to new aerodynamical regulations as other teams did. The best performance was a 2nd and 3rd place in Monaco thanks to tyre problems with both Renaults there.
This Williams is also the last in an era to drive with BMW engines as the German manufacturer bought the Sauber team to go ahead on its own in 2006. Williams' FW28 will be powered by a Cosworth V8.
Specifications
Official designation: Williams BMW FW27
Chassis: Carbon Aramid epoxy composite, manufactured by WilliamsF1
Suspension: WilliamsF1
Clutch: AP
Steering: WilliamsF1
Cooling system: Water and oil radiators
Brakes: Carbon Industrie carbon discs and pads, operated by AP calipers
Lubricants: Castrol
Fuel: Petrobras
Wheels: O.Z: 13 x 12 front, 13 x 13.7 rear
Tyres: Michelin
Cockpit instrumentation: WilliamsF1 digital data display
Steering wheel: WilliamsF1
Extinguisher systems: WilliamsF1 / Safety Devices
Driver's seat: Anatomically formed in carbon / epoxy composite material with Alcantara covering
Front Track: Maximum allowance
Rear Track: Maximum allowance
Weight: 605 kg including driver and camera for qualifying, 600 kg for race
Engine: BMW P84/5 90° V10
Displacement: 2,998 cc
Valves: Four valves per cylinder, pneumatically driven
Engine block: Aluminium
Cylinder head: Aluminium
Crankshaft: Steel
Oil system: Dry sump lubrication
Remarkable facts
1.3 terabytes of aero data processed in CFD (1 terabyte is a thousand million bytes, equivalent to 69,333 volumes of the Encyclopedia Britannica.
250,000 man hours of design time has been spent on the FW27, with a further 250,000 man hours required in fabrication and build.
4,500 drawings have been produced in the design of the FW27 chassis. End-on-end, these drawings would stretch for 5.350km with a further 4 km expected to be produced to support the FW27's lifecycle. By the end of the season, drawings would reach from London to Buenos Aires.
The FW27 will accelerate from standing to 200kmh in five seconds, and deceleration forces on board will reach 5g. 1g equates to driving into a brick wall at 30km/h.
Brake temperatures to generate the deceleration will reach 600 ºC in one second On board the FW27, exhaust temperatures reach 950 ºC and even the air temperature in the pneumatic valve system reaches temperatures two and half times boiling point at 250 ºC.
The BMW P84/5 contains 5,000 individual components, and takes 100 man hours to build. BMW have historically produced approximately 200 engines per season, but this figure will reduce in 2005.
BMW produce 1,000 drawings in the design of each engine.
The BMW engine weighs less than 90 kilograms.
At 19,000 rpm, 316.7 revolutions and 1,583.3 ignitions take place each second in the BMW F1 engine. 9,500 engine speed measurements are made, the pistons cover a distance of 25 metres, and 550 litres of air are drawn in. In the P84, maximum piston acceleration was 10,000g. Peak piston speed was 40 metres per second.
---
---