Toyota TF106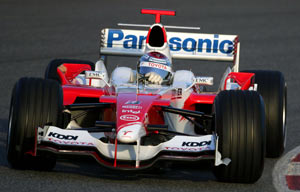 Active: 2006 - 14-05-2006
Team: Toyota Motorsports GmbH

Team: Mike Gascoyne (TD)
Drivers: Jarno Trulli (7), Ralf Schumacher (8)
In preparation of the TF106, Toyota switched some key suppliers for its cars. Most importantly Toyota runs on Bridgestone in 2006 after several years with Michelin. The driver restraints manufacturer changed to Takata while the dampers are now from Penske. The latter change has to do with a change in rear suspension geometry. It solved a problem that was present in earlier Toyota racers
Technical director Mike Gascoyne commented: "We also have a significantly different rear-end layout. The gearbox is fundamentally the same, but it has reduced weight and it's stiffer. However, we've gone away from the rotary rear damper concept that we've had for the last couple of years to a linear rear damper. We've identified a damping problem with the car over the last couple of years, which we've now put right. When we ran the TF105B all the drivers' comments were that we'd made the front end much, much better, but the car was rear limited; they were just waiting for the rear to settle down. We had the linear rear damper layout coming along, and in testing we saw that the TF106 was a significant improvement. It matches the rear with the front, and produces a more balanced car."
More on what the designers and the team have to say about their TF106 can be found here:

The car was last run in a GP at Catalunya for the 2006 Spanish Grand Prix, held on 14 May. As of Monaco of that year, Toyota ran the Toyota TF106B which had already been tested at Paul Ricard before the Spanish GP.
Meanwhile, the car's design leader, Mike Gascoyne had been sacked by Toyota the day after the Australian Grand Prix in which the team finished on the podium.
Specifications
Monocoque construction: Moulded carbon fibre and honeycomb construction
Fuel tank: ATL safety cell
Front suspension: Carbon fibre double wishbone arrangement, with carbon fibre trackrod and pushrod. Pushrod activates rocker, torsion bar, damper and anti-roll bar assy
Rear suspension: Carbon fibre double wishbone arrangement, with carbon fibre toelink and pushrod. Pushrod activates rocker, torsion bar, damper and anti-roll bar assy
Dampers: Penske
Wheels: BBS forged magnesium
Tyres: Bridgestone Potenza
Brakes callipers: Brembo
Brakes master cylinders: Brembo
Braking material: Hitco (carbon/carbon)
Steering: Toyota power-assisted steering
Steering wheel display: Toyota carbon fibre wheel with Toyota/Magneti Marelli instrument
Driver seat: Carbon fibre construction, moulded to driver's shape
Driver restraints: Takata
Driver HANS device: Toyota design
Electronic systems: Toyota/Magneti Marelli
Transmission: 7-speed unit plus reverse. Toyota-designed maincase with Toyota/Xtrac internals. Gear selection is sequential, via driver controlled electro-hydraulic actuation
Dimensions
Wheelbase: 3,090mm
Overall length: 4,530mm
Overall height: 950mm
Overall width: 1,800mm
Overall weight: 600kg including driver and camera
Engine
Designation: RVX-06
Cylinders:90° V8
Capacity: 2398cc
Horsepower: Approximately 740bhp
Revolutions: Approximately 19,000rpm
Valve actuation: Pneumatic
Throttle actuation: Hydraulic
Spark Plugs: DENSO
Fuel: Esso
Lubricants: Esso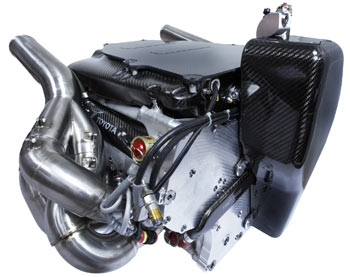 ---
---