Renault R26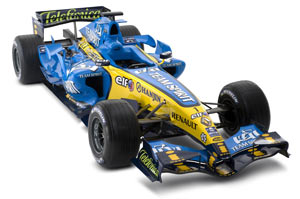 Active: 2006
Team: Renault F1

Designer: Roberg 'Bob' Bell (TD), Tim Densham (CD)
Drivers: Fernando Alonso (1), Giancarlo Fisichella (2)
Since Renault won the 2005 championship with the Renault R25, the team build further on an existing philosophy. The new R26 is an aggresive development of the championship winner with several important changes:

The R26 features an entirely new aerodynamic package, developed in line with the 2006 technical regulations. For the first race of the 2006 season, there will be no carryover items from last year's car.
The RS26 V8 is a smaller unit than the previous generation of V10 engines and develops less power. The reduced power levels mean the engine produces less heat – and therefore requires less cooling. As such, the team is able to run smaller radiators, which allows packaging gains to be made. These are reflected in the compact packaging of the sidepods.
The 90° angle of the V8 engine means the unit is wider than the V10 used last year. This has led the team to revise the layout of ancillary systems, in order to maintain a compact rear-end, an important area for aerodynamic performance.
The R26 uses a seven-speed titanium gearbox for the first time, instead of the 6-speed unit employed until 2005. The V8 engines develop less torque than the V10, and as such, a seven-speed gearbox allows the team to exploit the engine's characteristics in an optimum fashion.
Mechanically, the R26 maintains the configuration used by its predecessor, in order to ensure the car retains the dynamic qualities praised by the drivers. This includes the 'v-keel' front suspension mounting, which offers a competitive compromise between structural stiffness and aerodynamic performance.
More information about this car can be found at:

The car was obviously well designed as it moved on to become yet another double title winner in the hands of Fernando Alonso. While Fernando Alonso left to McLaren at the end of the season, so did Mild Seven as tobacco sponsoring became illegal in Formula One. As a result, this car is the last Renault F1 to be painted with the Mild Seven blue and is replaced by orange and white of ING, the title sponsor of the team as of 2007.
Specifications
Monocoque construction: Moulded carbon fibre and aluminium honeycomb composite monocoque, manufactured by the Renault F1 Team and designed for maximum strength and stiffness with minimum weight. Engine installed as a fully-stressed member.
Fuel tank: Kevlar-reinforced rubber fuel cell by ATL.
Front suspension: Carbon fibre top and bottom wishbones operate an inboard rocker via a pushrod system. This is connected to a torsion bar and damper units which are mounted at the front of the monocoque.
Rear suspension: Carbon fibre top and bottom wishbones operating vertically-mounted torsion bars and horizontally-mounted damper units mounted on the top of the gearbox casing.
Cooling system: Separate oil and water radiators located in the car's sidepods and cooled using airflow from the car's forward motion
Tyres: Michelin
Brake system: Carbon discs and pads (Hitco); calipers by AP Racing
Driver seat: Removable driver's seat made of anatomically formed carbon composite, with six-point harness seat belt. Steering wheel integrates gear change and clutch paddles.
Electronic systems: Integrated Step 11 chassis/engine electronics and software co-developed by Renault F1 Team and Magneti Marelli.
Transmission: Seven-speed semi-automatic titanium gearbox with one reverse gear.
Dimensions
Wheelbase: 3100mm
Front track: 1450mm
Rear track: 1400mm
Overall length: 4800mm
Overall height: 950mm
Overall width: 1800mm
Overall weight: 600kg including driver and camera
Engine designation:
Renault RS26
Cylinders:
90° V8
Capacity:
2398cc
Weight:
95kg
Spark Plugs:
Champion
Fuel:
Elf
Lubricants:
Elf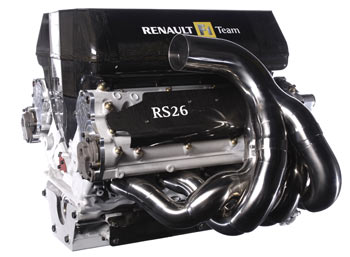 ---
---