Toyota TF106B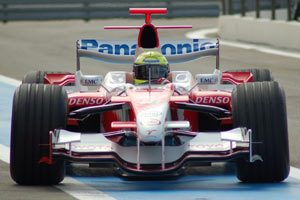 Active: 25-05-2006 - 2006
Team: Toyota Motorsports GmbH

Team: Pascal Vasselon (TD)
Drivers: Jarno Trulli (7), Ralf Schumacher (8)
After having run the first 6 races of 2006 with the TF106, Toyota moves in the updated B version which completes the major development steps in 2006. Apart from changes with the fuel tank, an updated aero package and a revised front suspension, the cars characteristics are the same as its predecessor, the Toyota TF106.
The TF106B represents the final step of the evolution that started at last year's Japanese GP when the new front suspension was introduced on the TF105B model. It has a new chassis with no keel in the middle in an effort to exploit all the aerodynamic advantages of the new layout. It also has new suspension geometry with a different push rod angle. This forced the introduction of small "alligator eyes" on top of the chassis for the rocker pick up point."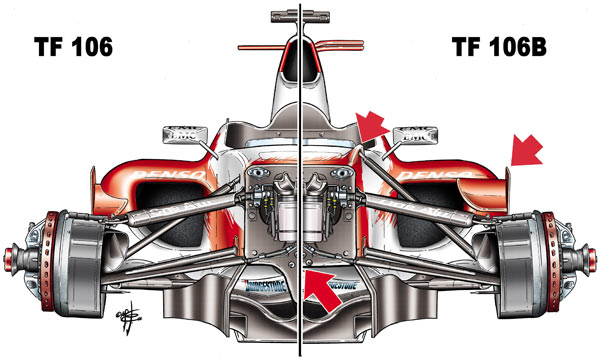 The Toyota TF105 and TF106 kept the same wheelbase with the addition of a spacer between the engine and chassis (2) to cope with the shorter V8 engine for 2006, reducing the general stiffness of the assembly.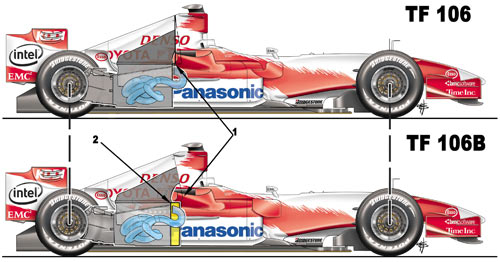 The new TF106B chassis has a longer fuel tank (1) to compensate for this difference in length so the chassis length remains unchanged.
Specifications
The technical specifications are identical to those of the Toyota TF106:
Monocoque construction: Moulded carbon fibre and honeycomb construction
Fuel tank: ATL safety cell
Front suspension: Carbon fibre double wishbone arrangement, with carbon fibre trackrod and pushrod. Pushrod activates rocker, torsion bar, damper and anti-roll bar assy
Rear suspension: Carbon fibre double wishbone arrangement, with carbon fibre toelink and pushrod. Pushrod activates rocker, torsion bar, damper and anti-roll bar assy
Dampers: Penske
Wheels: BBS forged magnesium
Tyres: Bridgestone Potenza
Brakes callipers: Brembo
Brakes master cylinders: Brembo
Braking material: Hitco (carbon/carbon)
Steering: Toyota power-assisted steering
Steering wheel display: Toyota carbon fibre wheel with Toyota/Magneti Marelli instrument
Driver seat: Carbon fibre construction, moulded to driver's shape
Driver restraints: Takata
Driver HANS device: Toyota design
Electronic systems: Toyota/Magneti Marelli
Transmission: 7-speed unit plus reverse. Toyota-designed maincase with Toyota/Xtrac internals. Gear selection is sequential, via driver controlled electro-hydraulic actuation
Dimensions
Wheelbase: 3,090mm
Overall length: 4,530mm
Overall height: 950mm
Overall width: 1,800mm
Overall weight: 600kg including driver and camera
Engine
Engine designation: RVX-06
Cylinders:90° V8
Capacity: 2398cc
Horsepower: Approximately 740bhp
Revolutions: Approximately 19,000rpm
Valve actuation: Pneumatic
Throttle actuation: Hydraulic
Spark Plugs: DENSO
Fuel: Esso
Lubricants: Esso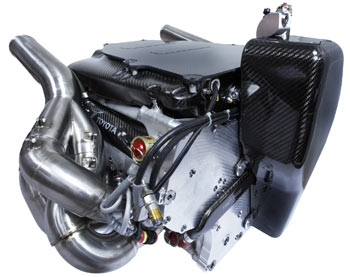 Drawings by Toyota F1
---
---