Midland Toyota M16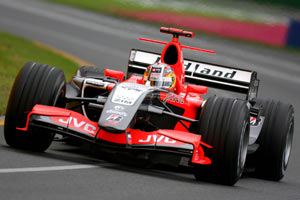 Active: 2006
Team: Midland F1

Designer: John McQuilliam, Simon PhilipsDrivers: Tiago Monteiro (18 ), Christijan Albers (19)
Statements by the team management at Midland F1 were clear about where the team aims to be on the grid. The M16 of Midland is the first full Midland car after the Jordan EJ15B. The team wishes to be "a platform for the future and will be continuously developed". Basically, that meant a backmarker grid position, just like Jordan and Minardi were in 2005.
This car features a wider and steeper nose cone compared to the EJ15B and is a further development of it in every area. In fact, painted yellow the car would very much look like the EJ15B. The team also did not disclose any breakthroughs, meaning there are probably none realised. Apart from tighter packaging and better aerodynamic efficiency there is nothing much to mention about this car.
More can be found at:

This car is identical to the Sypker MF1 Toyota M16 since the team was sold out to Spyker N.V. before the final 3 GP's of the 2006 season.
Specifications
Monocoque: Full carbon fibre composite monocoque
Front suspension: Composite pushrods activating chassis mounted in-line dampers and torsion bars, unequal length composite aerodynamic wishbones, front anti-roll bar and cast uprights.
Rear suspension: Composite pushrods activating gearbox mounted rotary dampers & torsion bars, unequal length composite aerodynamic wishbones, and cast uprights.
Tyres: Bridgestone
Wheels: Forged BBS wheels to MF1 Racing specification
Clutch: Triple plate AP racing clutch
Transmission: In-house Midland MF1 Racing design. 7-speed + reverse longitudinal gearbox with electrohydraulic sequential gear change
Dimensions
Wheelbase: > 3000mm
Front track: 1480mm
Rear track: 1418mm
Overall length: 4610mm
Overall height: 1000mm
Overall width: 1800mm
Overall weight: 600kg including driver and camera
Engine designation:
Toyota RVX-06
Cylinders:
90° V8
Capacity:
2398cc
Weight:
95kg
Valve train:
Pneumatic
Throttle actuation:
Hydraulic
Spark plugs:
Denso
---
---