Red Bull RB2 Ferrari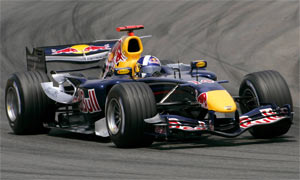 Active: 2006
Team: Red Bull Racing

Designer: Mark Smith (CD), Ben Agathangelou (CA)
Drivers: David Coulthard (14), Christian Klien / Robert Doornbos (15)
The Red Bull RB2 promised to be a very good car from its looks but quickly suffered overheating problems in the first tests. This initial design problem took some time to solve and hampered car development compared to the other teams. Luckily the car was out early in the year which allowed the team to solve the problems before the start of the season at the first GP at Bahrain.
After the shakedown and before the problems were discovered, David Coulthard commented: "Testing the new car today was momentous, as it represents something completely new for the team. The engine was delivered from Italy, but then everything has been built around it, and this was the moment when all the newly created parts came together. The lines of the new car look as though they've been inspired by the Formula Unas, it's a very sexy looking thing!".
"In terms of driving experience, the car performed as expected on track and I'm looking forward to putting it through its paces tomorrow and throughout next year to see what it can do. As soon as you drive a new car you have a new toy to play with, so the old one quickly becomes very uninteresting! this initial "By the end of the test, we had completed some valuable mileage with RB2 and after some initial teething problems were pleased with the initial feedback," said Sporting Director Christian Horner.
During the winter season, Red Bull made it clear to be serious about Formula One as they bought Minardi to start the sister team Scuderia Toro Rosso. The team also hired McLaren designer Adrian Newey, the man who was responsible for several championship winning cars at Williams and McLaren.
The second Red Bull proved to be a fine design as it adopted a sleek version of the V-keel front suspension that was one year earlier introduced by the championship winning Renault R25. At the Grand Prix of Monaco, David Coulthard drove the car to the team's first podium ever as he finished third behind Alonso and Montoya.
Later on in the season the performance fell away as the other teams were able to develop their cars quicker than Red Bull. Consequently, the development was also quickly abandoned in order to concentrate on 2007. In the midst of the struggle, the team also replaced Klien by Dutchman Robert Doornbos after a series of disappointing performances.
Specifications
Chassis: Composite monocoque structure, designed and built in-house, carrying the Ferrari V8 engine as fully stressed member
Transmission: Seven-speed gearbox, longitudinally mounted with hydraulic system for power shift and clutch operation. AP Racing pull-type clutch
Wheels: AVUS Racing, Front: 12.7in x 13in, Rear: 13.4in x 13in
Tyres: Michelin
Suspension: Aluminium alloy uprights, upper and lower carbon wishbones and pushrods, torsion bar springs and anti roll bars
Dampers: Multimatic dampers
Brakes: Brembo calipers / Hitco carbon disks and pads
Electronics: Integrated engine / chassis Magneti Marelli electronic control system
Fuel: Shell racing fuel
Engine
Engine designation: Ferrari type 056
Cylinders:90° V8 with 32 valves
Capacity: 2398cc
Weight: 95kg
Valve train: Pneumatic
Cylinder head: Aluminium alloy
Engine block: Aluminium allow
Ignition: Magneti Marelli static electronic ignition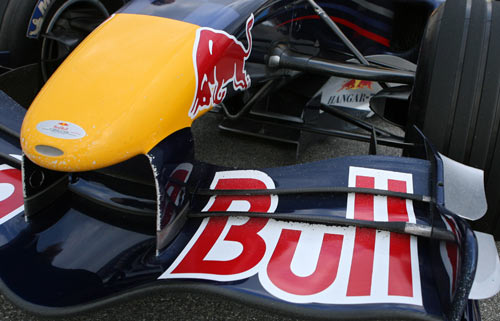 Images by Red Bull Racing / GEPA
---
---