Williams FW29 Toyota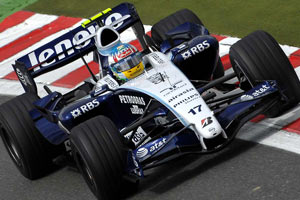 Active: 2007
Team: Williams F1

Designer: Sam Michael (TD), Loïc Bigois (CA)
Drivers: Nico Rosberg (16), Alexander Wurz (17), Kazuki Nakajima (17)
The FW29 marks a restart for the Williams team as it launched its new car, its new brand identity and a new engine deal at the same time. The car itself is a development of the FW28 but the team have early on started development with this car as 2006 quickly proved to be a problematic season.
Immediately different to its predecessor, the car features a new aerodynamic approach with changes all over the car. Despite its excellent mechanical grip, the FW28 suffered aerodynamic performance and reliability all through the season. All these problems were first identified and then studied on to ensure a considerable improvement on the FW29.
The focus on aerodynamics easily shows by the new rear wing that adopts a twin central support and a very high central channel of the diffuser to make optimal use of the smaller sidepods. These changes have also allowed to simplify the parts ahead of the rear wheels and are now more similar to the designs of other teams.
At the front, the front wing is completely decked with central connections to the nose cone. One year earlier, the team started off with small decks that were never followed by any other team. The team did however hold on to the zero keel design but was able to reduce the weight of the monocoque considerably. The forward weight bias for the Bridgestone tyres was then realised by lengthening the ballast holding splitter under the cockpit.
Inside, the car features a slightly shorter seamless shift gearbox and a larger fuel tank. The most important change is however the adoption of the Toyota engine in terms of connection points and cooling. The result are shark-gills just inboard of the large chimneys on both sides of the sidepods.

On the commercial side, Williams can profit from new partnerships with AT&T and Lenovo while long time partners as Reuters and RBS continue to support the team. Team Principal Frank Williams graciously summoned it as the car's launch: "Without question, 2006 was not our finest year but I am delighted to see how the entire Williams workforce has pulled together and redoubled its efforts over the winter. It is how you perform in adversity that really counts. We begin this year with a completely new brand identity courtesy of our new partners AT&T, four new or upgraded sponsors including Lenovo, a wealth of new engineering talent and, of course, what we hope to be the focus of all these efforts and ambitions, the FW29."
Result wise, the FW29 was good for 33 points for Williams in the 2007 constructor's championship, enough for 4th place in the standings after the disqualification of McLaren. The highpoint result was at Canada where Wurz managed to finish 3rd after an eventful race. Wurz however decided before the last GP that is was time for him to retire from racing. Nakajima was appointed to drive the final race of the season.
Specifications
Chassis/body: carbon and kevlar composite monocoque
Suspension (fr/r): double wishbones, pushrod actuated springs over Sachs dampers
Steering: rack-and-pinion, power assisted
Brakes: vented ceramic discs, all-round
Gearbox: Paddle Operated 7 speed Semi-Automatic
Drive: Rear wheel drive
Weight: 605 kilo / 1333.8 lbs
Length: 4500 mm (177.2 in)
Width: 1800 mm (70.9 in)
Height: 950 mm (37.4 in)
Wheelbase / Track (fr/r): 3100 m
Engine
Designation: Toyota RVX-08
Configuration: 90° V8, naturally aspirated
Capacity: 2398 cc
Revolutions: Maximum 19.000rpm (as required by FIA rules)
Valve actuations: Pneumatic
Throttle actuation: Hydraulic
Fuel: Esso
Lubricants: Esso
Spark Plugs: DENSO
Power: Approximately 740 bhp
---
---