Super Aguri Honda SA07
Active: 2007
Team: Super Aguri F1

Drivers: Takuma Sato (22), Anthony Davidson (23)Designers: Mark Preston (TD), Peter McCool (CD), Ben Wood (HA)
The SA07 is a Formula One car that is largely derived from the Honda RA106. The small engineering team of Super Aguri did however manage to adapt the chassis to fit in the new RA807E - which was a relatively easy task thanks to the FIA stringent engine freeze regulations - and an updated gearbox, but apart from that did hardly more than slightly updating some aerodynamic components on the car.
The contender was launched at the first race of the season after a planned Tokyo launch was cancelled. Technical director Mark Preston expressed his satisfaction of the modest development, including the double decked front wing, while sporting director Graham Taylor eyed an overall performance improvement over 2006.
Because the RA106 was in fact a very good chassis that won the Hungarian GP of 2006 in the hands of Jenson Button, Super Aguri managed to surprise everyone. At the first GP of the season, both drivers easily made it into Q2 and Sato even managed to position his car in the top ten of the Australian grid. Although the performance weakened through the season due to the lack of development, the SA07 was regularly faster than the Honda RA107. The team secured their first point at the Spanish GP with 3 more to follow in an eventful Grand Prix of Canada. Their 4 points were enough for 9th place in the constructor standings.
The unexpected results were a thorn in the eyes of Williams F1 and Spyker F1. It forced Spyker to file a complaint against Super Aguri, effectively engaging the renowned customer car row. Frank Williams had earlier also clearly opinionated the issue. The complaint is believed to be based on article 6.3 of the F1 sporting regulations which states: "The constructor of an engine or rolling chassis is the person (including any corporate or unincorporated body) which owns the intellectual property rights to such engine or chassis".
Additionally, Spyker and Williams claimed that Super Aguri's use of the Honda chassis was in violation of schedule 3 of the Concorde agreement which states: "A constructor is a person (including any incorporated or unincorporated body) who owns the intellectual property rights to the rolling chassis it currently races, and does not incorporate in such chassis any part designed or manufactured by any other constructor of F1 racing cars except for standard items of safety equipment, providing that nothing in the Schedule 3 shall prevent the use of an engine or gearbox manufactured by a person other than the constructor of the chassis".
As such, the complaint states that Super Aguri's car effectively uses Honda components, other than the engine or gearbox, which is a breach to the regulations. The Japanese team owever countered by noting that they actually own the intellectual rights of the components and the car, thanks to a carefully designed construction. The old RA106 cars were sold to PJUU Inc in the winter of 2007 and then again bought by Super Aguri.
Technical specifications
Chassis designation: SA07
Chassis construction: Moulded carbon fibre and honeycomb composite front and side composite impact structures with integral roll protection structures.
Fuel cell: Fully enclosed
Bodywork construction: Composite one piece sidepod and engine cover, separate carbon floor section, structural composite nose box and composite wings.
Front suspension: Wishbones, pushrod operated torsion bars and dampers. Mechanical anti-roll bar.
Rear suspension: Wishbones, pushrod operated torsion bars and dampers. Mechanical anti-roll bar.
Dampers: Showa
Wheels: BBS
Tyres: Bridgestone
Brakes: 6 piston calipers with carbon pads and disks
Steering: SAF1 power assisted
Steering wheel: SAF1 specification and composite construction
Drivers seat: Driver specific carbon composite
Seat belts: Takata
Fuel cell: ATL kelvar reinforced to SAF1 specification
Battery: 2.5 Ah lead acid
Instrumentation: SAF1 specification
Transmission: SAF1 Honda carbon composite maincase. 7 speed sequential "quick shift" electro hydraulically controlled
Clutch: Sachs
Front track: 1,460mm
Rear track: 1,420mm
Wheelbase: 3,135mm
Overall length: 4,680mm
Overall height: 950mm
Overall width: 1,800mm
Engine
Designation: Honda RA807E
Type: 2.4 litres V8 at 90°
Aspiration: Normal, as required by regulations
Maximum power: Over 700 bhp
Maximum revs: 19,000 rpm
Valve train: 4 valves per cylinder, pneumatic valve system
Throttle system: Electro hydraulically operated system
Injection system: Honda PGM-FI
Ignition system: Honda PGM-IG
Spark Plugs: NGK
Oil: ENEOS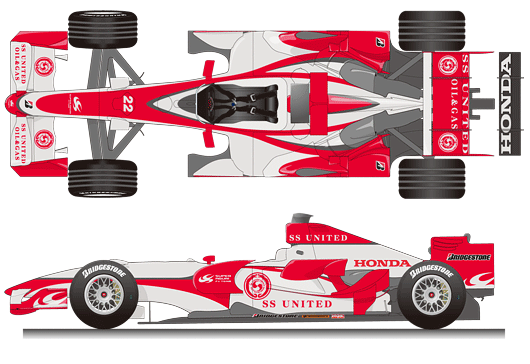 ---
---