BMW Sauber F1.07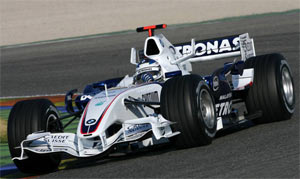 Active: 2007
Team: BMW Sauber F1

Designers: Willy Rampf (TD)
Drivers: Nick Heidfeld (9), Robert Kubica (10)
The BMW Sauber F1 07 is a thorough development of the successful F1.06 which improved throughout the inaugural season for BMW Sauber. Yet the car was just the beginning for the team as even during the launch of their F1.07 they are building up their squad and factory at Hinwill.
The new F1.07 has been visibly improved in all possible areas, denoting lots of work has been put into the car. It features an obvious higher nose to improve the front suspension geometry. The tip of the nose did however not raise as it would not have been beneficial to their zero keel design. Just like about every other new car in 2007, the nose is thinner to reduce the air resistance.
The engine and the rear packaging have too changed considerably after much was learned from the initial season with V8 engines. Cooling requirements have obviously not gone up as the FIA set a rev limit of 19000 rpm for all races of 2007.
Apart from general improvements the team have also had to adopt to their new tyre supplier Bridgestone after having run Michelin tyres for the last few years. Just like Renault F1 and Honda Racing F1 the highly optimised suspensions were adapted to better suit the new tyres which are less efficient than those available in 2006.
More information of this car when it was launched:

Specifications
Chassis: carbon-fibre monocoque
Suspension: upper and lower wishbones (front and rear), inboard springs and dampers, actuated by pushrods (Sachs Race Engineering)
Brakes: six-piston callipers (Brembo), carbon pads and discs (Brembo, Carbone Industrie)
Transmission: 7-speed quick shift gearbox, longitudinally mounted, carbon-fibre clutch (AP)
Chassis electronics: BMW
Steering wheel: BMW Sauber F1 Team
Tyres: Bridgestone Potenza
Wheels: OZ
Dimensions
Length: 4,580 mm
Width: 1,800 mm
Height: 1,000 mm
Track width, front: 1,470 mm
Track width, rear: 1,410 mm
Wheelbase: 3,110 mm
Weight: 605 kg (incl. driver, ready to drive, tank empty)
Engine
Designation: BMW P86/7
Type: normally aspirated V8
Bank angle: 90 degrees
Displacement: 2,400 cc
Valves: four per cylinder
Valve train: pneumatic
Engine block: aluminium
Crankshaft: steel
Oil system: dry sump lubrication
Engine management: BMW
Spark plugs: NGK
Pistons: aluminium
Connecting rods: titanium
Length: 518 mm
Width: 555 mm
Height: 595 mm (overall)
Weight: 95 kg
---
---