Renault R27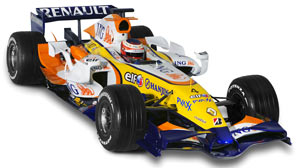 Active: 2007
Team: Renault F1

Team: Bob Bell (TD), Rob White (MD of engine department), Pat Symonds (MD of engineering), Flavio Briatore (TP)
Drivers: Giancarlo Fisichella (3), Heikki Kovalainen (4)
The R27 represents an aggressive evolution of the design philosophy that has won world championships for Renault in 2005 and 2006. Stable chassis regulations meant performance gains were becoming increasingly difficult to find, and more radical solutions – such as the sidepod treatment of the R27 – were required.
The R27 features an instantaneous gearchange (IGC) gearbox for the first time. This technology has already been run by other teams, but will make its track debut in Melbourne. The unit has already completed thousands of kilometres of reliability running in a hybrid car, with promising results.
The R27 is first Renault F1 car to run on Bridgestone tyres. With the same specification of tyre available to all competitors, the onus is on the teams to exploit the tyres in the most effective manner possible. With this in mind, the R27 has been designed to be more adjustable in terms of weight distribution and other dynamic characteristics, in order to provide the trackside engineering teams with maximum flexibility in tuning the car.
While chassis regulations were stable, the engine regulations were changed heavily to reduce performance. Hence the RS27 is a modified version of the RS26 V8 engine that completed the 2006 Chinese and Japanese Grands Prix in Fernando Alonso's car. All modifications to the engine in order to optimise the engine's performance for the maximum rev limit of 19,000 rpm imposed by the regulations.
Appendix 4 of the Formula One Sporting Regulations indicated that modifications could be made to the following areas in order to re-optimise the engine for the new rev limit:

Inlet and exhaust ports
Combustion chamber
Inlet and exhaust camshafts (including followers)
Inlet and exhaust valves
Piston shape and squirt jets
Piston pins
Connecting rod small ends and bearings
Big end bearings and oil flow rate to them
Modifications were also permitted to engine installation on condition that these brought no direct performance benefit.
More information about this car can be found at:

Specifications
Chassis: Moulded carbon fibre and aluminium honeycomb composite monocoque, manufactured by the Renault F1 Team and designed for maximum strength and stiffness with minimum weight.
Engine installed as a fully-stressed member.
Front suspension Carbon fibre top and bottom wishbones operate an inboard rocker via a pushrod system. This is connected to a torsion bar and damper units which are mounted at the front of the monocoque
Rear suspension: Carbon fibre top and bottom wishbones operating vertically-mounted torsion bars and horizontally-mounted damper units mounted on the top of the gearbox casing.
Transmission: Seven-speed semi-automatic titanium gearbox with one reverse gear. Instantaneous gearchange system for maximum performance.
Fuel system: Kevlar-reinforced rubber fuel cell by ATL.
Cooling system: Separate oil and water radiators located in the car's sidepods and cooled using airflow from the car's forward motion
Electrical: Integrated Step 11 chassis/engine electronics and software co-developed by Renault F1 Team and Magneti Marelli.
Braking system: Carbon discs and pads (Hitco); calipers by AP Racing
Cockpit: Removable driver's seat made of anatomically formed carbon composite, with six-point harness seat belt. Steering wheel integrates gear change and clutch paddles.
Electronic systems: Integrated Step 11 chassis/engine electronics and software co-developed by Renault F1 Team and Magneti Marelli.
Transmission: Seven-speed semi-automatic titanium gearbox with one reverse gear.
Dimensions
Wheelbase: 3100mm
Front track: 1450mm
Rear track: 1400mm
Overall length: 4800mm
Overall height: 950mm
Overall width: 1800mm
Overall weight: 600kg including driver and camera
Engine designation:
Renault RS27
Capacity
: 2400 cc
Architecture
: 90° V8
Weight
: 95 kg
Max rpm
: 19,000 rpm
Spark plugs
: Champion
ECU
: Magneti Marelli Step 11
Fuel
: Elf
Oil
: Elf
Battery
: Renault F1 Team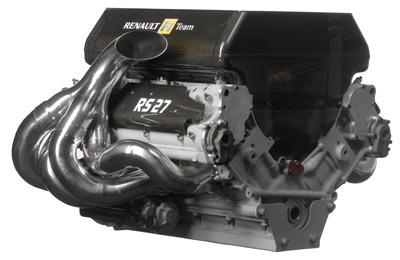 ---
---