Spyker F8-VII Ferrari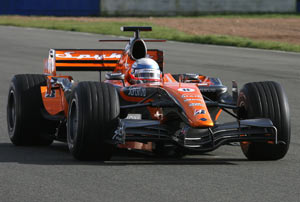 Active: 2007
Team: Spyker F1 Team

Designers: James Key (TD), John McQuilliam (CD)
Drivers: Adrian Sutil (20), Christijan Albers (21)
When the company started trading at the beginning of the 20th century it launched the car models named A, B and C to the market. When Spyker CEO Victor Muller resurrected the Spyker name in 2000 he wanted to build on that strong history, "When we launched the first modern line of Spykers, the C8 Spyder, we called it the C line to follow on from the original model rationale. The E line will be launched in the near future, so it makes sense for our Formula 1 car, our latest model, to be the F line."
The number eight refers to the number of cylinders of Spyker's Ferrari engine, as with the road going Spykers such as the C8 Spyder, which has an eight cylinder engine as well. The VII sub-designation ('7') refers to Spyker's heritage as an aircraft manufacturer where all models were denoted by roman numerals and stood for the year the aircraft was launched. Hence the F8-VII is the Spyker F line with eight cylinders in 2007.
Spyker's aim with the new F8-VII was to create a solid base on which to build, with the real focus is on upgrading the car through the course of the season and preparing for the future.
Technical director James Key explained at the launch: 'We set out with a plan to improve on the areas that we knew needed improving on the M16. We also tried to second guess as best we could what the 2007 tyres were going to do, and we worked hard on aero, which is of course always the fundamental thing. That way we could concentrate all our efforts on performance related areas.
On the mechanical side, where a system worked well – like the steering rack for example – we more or less left it alone. We've maintained a very high chassis, because we felt that offered a lot of volume for aero devices in that area. We had a twin keel before, and we wanted to tidy it up and make it neater and stiffer. There are little 'bumps' there now, so it's effectively zero keel compared to what we had before."
Spyker have focussed on optimising the rear to make it as compact as possible. The gearbox was slightly lengthened (as with most teams for 2007) while the exhaust and radiator volume is pushed forwards to increase aerodynamic efficiency at the back of the car.
Inevitably, the change of engine supplier was also a focus of attention as the team switched from Toyota to Ferrari engines. The engine installation proved to be very different while the team has to take care of hydraulics again, whereas previously Toyota looked after the system, and it came as part of the engine.
While James Key and his team have focussed on ensuring the F8-VII is a solid car to start the season with, chief technical officer, Mike Gascoyne, has focussed on putting in place measures that will drastically improve performance later in the year. "We've started to look at areas that will give a good step forward rather than small ones. With Aerolab on board and a restructure, we can make some real progress. I think you'll see quite a large update to the rear suspension, and a lot of other things will change. The programme we have in the first half of the year is really geared towards making big progress in terms of aerodynamics and design."
More information on this car:
Specifications
Monocoque construction: Full carbon fibre composite monocoque
Front suspension: Composite pushrods activating chassis mounted in-line dampers and torsion bars, unequal length composite aerodynamic wishbones, front anti-roll bar and cast uprights
Rear suspension: Composite pushrods activating gearbox mounted rotary dampers & torsion bars, unequal length composite aerodynamic wishbones, and cast uprights
Gearbox: In-house Spyker design. 7-speed + reverse longitudinal gearbox with electrohydraulic sequential gear change
Clutch: Triple plate AP racing clutch
Wheels: BBS forged magnesium
Tyres: Bridgestone Potenza
TF107 Technical Specifications
Wheelbase: More than 3000mm
Overall length: Approx. 5000mm
Overall height: 950mm
Overall weight: 600kg including driver and camera
Engine specifications
Designation: Ferrari F1-056H (customer)
Cylinders: 90° V8, naturally aspirated
Capacity: 2398cc
Horsepower: Over 700bhp
Revolutions: Maximum 19,000rpm, as required by FIA rules.
Valve actuation: Pneumatic
Throttle actuation: Hydraulic
Spark Plugs: NGK
---
---