McLaren MP4-23 Mercedes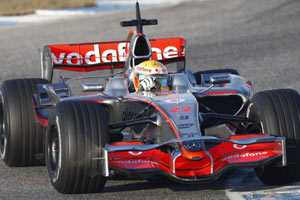 Active: 2008
Team: McLaren International Ltd

Designers: Neil Oatley (Design and Development Director), Simon Lacey (HA) and Tim Goss (CE)
Drivers: Lewis Hamilton (22), Heikki Kovalainen (23)
The Vodafone McLaren Mercedes MP4-23 is an evolution of the previous McLaren car like there have been many in recent years. As McLaren focus mainly on constant development, the improvements are continuous and not always that apparent at the launch of a new car. It was however important for the team to get a car ready quickly for testing, and thus 2 chassis were ready to be tested as of 9 January. The car immediately showed a similar pace to the Ferrari F2008 and completed a vast amount of laptime during its first week of testing.
Due to the famous spy scandal that saw the FIA strip all of McLaren's constructor points of 2007, one of the best cars of 2008 is driven with the numbers 22 and 23. Behind the wheel are Lewis Hamilton, the 2007 rookie who impressed everyone by finishing second in the 2007 drivers' championship. He is teamed up with Heikki Kovalainen, a Finn who proved to be on top of his game as he was in his first year in F1 largely the better of his Renault teammate Giancarlo Fisichella. He practically changed places with Fernando Alonso who did not feel at home at the British team.
Due to the engine freeze, the car's development was highly focused on aerodynamics. The most notable change there is without a doubt the higher nose cone. Still thin, the nose is a departure from the low noses that McLarens have had in the most recent 3 years. At launch time, the front wing had not changed much and was still a 3 plate, bridged wing.
Additionally, work was put into the sidepods and especially the area where air is fed into the sidepod for engine cooling. While in 2007 the sidepod plate as attached perpendicular on the sidepod's side, the new design is a synergy that makes it appear as one single part. In effect it is build to allow more air to pass around the sidepod close to the car's floor, while at the top more is fetched into the inlet for cooling benefits.
Other changes include a redesign of the front suspension (although maintaining the zero keel layout), aerodynamically revised airbox surroundings, larger T-wings and a longer wheelbase.
Chassis
Chassis: McLaren moulded carbon fibre/aluminium honeycomb composite incorporating front and side impact structures. Contains integral safety fuel cell
Front Suspension: Inboard torsion bar/damper system operated by pushrod and bell crank with a double wishbone arrangement
Rear Suspension: Inboard torsion bar/damper system operated by pushrod and bell crank with a double wishbone arrangement
Suspension Dampers: Koni
Electronics: McLaren Electronic Systems control units incorporating electronics for chassis, engine and data acquisition. McLaren Electronic Systems also supplies the electronic dash board, alternator voltage control, sensors, data analysis and telemetry systems
Bodywork Construction: One-piece engine cover; separate sidepod covers; separate floor section, structural nose with integral front wing.
Tyres: Bridgestone Potenza
Radios: Kenwood
Race Wheels: Enkei
Batteries: GS Yuasa Corporation
Steering: McLaren power-assisted
Instruments: McLaren Electronic Systems
Gearbox: Semi-automatic, seven forward and one reverse
Driveshafts: McLaren
Clutch: Hand-operated
Engine
Designation: Mercedes-Benz FO 108V
Capacity: 2.4 litre
Cylinders: V8, 90°
Max. rpm: 19,000 (FIA regulatory limit since 2007)
Piston bore maximum: 98 mm (FIA regulation)
Bore spacing: 106.5 mm
Number of valves: 32
Fuel: Mobil 1 Unleaded (5.75% bio fuel)
Lubricants: Mobil 1, newly developed 2008 formula for lower friction and better wear resistance
Engine: 95kg (minimum FIA regulation weight)
---
---