Force India F1 VJM01 Ferrari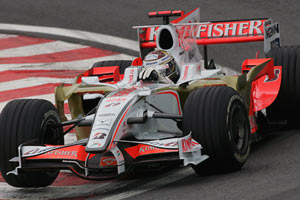 Active: 2008
Team: Force India F1

Team: Vijay Mallya (CEO), Colin Kolles (TP), Mike Gascoyne (CTO), James Key (TD), Mark Smith (CD), Akio Haga (Project leader)
Drivers: Adrian Sutil (20), Giancarlo Fisichella (21)
The first Force India was presented at Mumbai, India with a large media campaign to try to steal the hearts of the Indian people. The VJM-01 would later on make its track debut at a test on 25 February at Barcelona.
While the media campaign at the launch certainly worked, the performance throughout the season could not match what the team's principal expected beforehand. It wasn't however a failure for the team. With limited resources and being completely independent, a great job was done to improve the car with regular updates with both aerodynamic and mechanical changes.
The most substantial aerodynamic upgrade came at Silverstone for GP09, and the introduction of the team's seamless gearbox was at GP12 in Valencia (Europe). Development of the VJM1 matched the rate of the leading teams, and was more rapid than the team's closest competitors meaning that the entire grid at the final race in Brazil was separated by little over 1s of lap time.
As by the end of the season the team failed to score a point, team principal Vijay Mallya announced a major shuffle in the technical department and a new technical alliance with McLaren, hoping to get away from the last row on the grid.
Specifications
Chassis: Composite monocoque structure, design and final assembly carried out in-house
Transmission: Seven-speed gearbox, seamless-shift, design by FIF1, ratios manufactured by Xtrac Clutch: AP Racing
Wheels: BBS, Front: 12.7in x 13in, Rear: 13.4in x 13in
Tyres: Bridgestone
Front suspension: MMC uprights, upper and lower carbon wishbones and pushrods, torsion bar springs and anti roll bar, FIF1/Penske dampers, FIF1 Inerta
Rear suspension: MMC uprights, upper and lower carbon wishbones and pushrods, torsion bar springs and anti roll bar, FIF1/Penske dampers
Brakes: AP calipers / Hitco carbon-carbon discs and pads
Electronics: FIA (MESL) standard control unit, FIF1 looms
Engine
Designation: Ferrari 056
Cylinder configuration: V8, 90°
Cylinder block: Cast aluminium
Number of valves: 32
Valve springs: Pneumatic
Total displacement: 2398 cm3
Piston bore: 98 mm
Weight: >95 kg nominal
Fuel: Shell
Lubricant: Shell
---
---