Sauber C32 Ferrari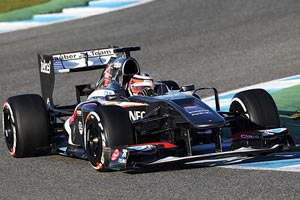 Active: 2013
Team: Sauber F1 Team

Team: Matt Morris (CD), Willem Toet (HA), Beat Zehnder (Team Manager), Monisha Kalterborn (CEO)
Drivers: Nico Hulkenberg (11), Esteban Gutierrez (12)
Sauber unveiled their C32 at their headquarters in Hinwill on February 2, 3 days ahead of the first winter test at Jerez. It is the first car designed entirely under the helm of Chief designer Matt Morris after the departure of the team's technical director James Key. It also marks the first launch for team principal Monisha Kaltenborn, who took over from Peter Sauber, and was very ambitious at the launch.

Development focus of this car was mainly in the sidepods which are narrower and slightly higher, incorporating a radiator layout that is vastly different from its predecessor. The coanda exhaust has also changed as the team decided to copy McLaren's 2012 solution. Combined with a redesigned rear suspension layout and a narrower gearbox from Ferrari, more downforce can be extracted from the rear of the car.
The nose meanwhile has only been slightly revised, keeping the S-duct that runs through the nose cone to guide air from underneath the nose to the upper surface of the monocoque. In general though, this car is a considerable evolution of the C32, progress as we have become accustomed to from Sauber.
The full technical analysis can be found here: f1technical.net/features/18125.
Specifications
Chassis: carbon-fibre monocoque
Front suspension: upper and lower wishbones, inboard springs and dampers actuated by pushrods
Rear suspension: upper and lower wishbones, inboard springs and dampers actuated by pullrods
Dampers: Sachs Race Engineering
Brakes: six-piston brake callipers (Brembo), carbon-fibre pads and discs (Brembo)
Transmission: Ferrari 7-speed quick-shift carbon gearbox, longitudinally mounted, carbon-fibre clutch
Electronics: MES
Steering wheel: Sauber F1 Team
Tyres: Pirelli
Wheels: OZ
KERS: Ferrari
Dimensions
Length: 5.240 mm
Width: 1.800 mm
Height: 1.000 mm
Track width, front: 1.495 mm
Track width, rear: 1.410 mm
Weight: 642 kg (incl. driver, tank empty)
Engine
Designation: Ferrari 056
Configuration: Naturally aspirated V8, 90° cylinder angle
Engine block: sand-cast aluminium
Valves / valve train: 32 / pneumatic
Displacement: 2,398 cm³
Bore: 98 mm
Weight: >95 kg
Image by James Moy Photography
---
---