Caterham CT05 Renault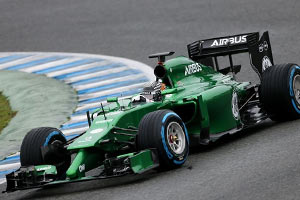 Active: 28-01-2014 - 2014
Team: Caterham F1

Team: Cyril Abiteboul (TP), Mark Smith (TD), John Iley (Performance Director)
Drivers: Marcus Ericsson (9), Kamui Kobayashi (10), Alexander Rossi (Reserve), Robin Frijns (Reserve)
The CT05 is first car to be fully designed and built at Caterham's Leafield Technical Centre and features a new all-green livery. For the fourth year in a row, the Caterham car is supplied with power from partner Renault Sport, now having a turbo charged 1.6l V6 in the back of the car, assisted with heat and kinetic energy recovery systems. Just as on CT04, the 2014 car has a gearbox supplied by Red Bull Technology.
The team was positive at the launch that its relocaton during 2012 to a location closer to other F1 teams helped to attract more experienced people that could drive the team forward. Additionally, the team made an agreement with TMG for the use of their windtunnel, enabling the team to start 60% scale windtunnel testing as of 30 January 2014. Upgraded CFD capacity was also installed to help develop the car, albeit that these agreements did not have any influence on the car ahead of its launch.
At the debut of the car, the team clearly aimed at an improvement in performance: ""In Renault Sport F1 and Red Bull Technology, we have technical partners that have powered the World Championship-winning team for the last four years and, while we are realistic enough to know we are very unlikely to be competing at the front of the grid, there is no reason why we should not be fighting higher than we have done since we came into the sport in 2010. We have extensive experience of working with both Renault and Red Bull, and that is going to be crucial this year. Reliability and energy management will play a key role in 2014, especially early in the season, so our experience of working so closely with both organisations since 2011 will definitely help throughout the course of the season."
Read more in:

Specifications
Chassis material: Carbon Fibre, mostly epoxy resin
Bodywork material: Carbon Fibre, mostly epoxy resin
Front Suspension: Twin non-parallel wishbone, Pullrod actuated
Rear Suspension: Twin non-parallel wishbone, Pullrod actuated
Dampers: Caterham, Penske Racing Shocks
Steering: Caterham
Gearbox: Red Bull Technology
Clutch: AP Racing
Brakes: Carbon on carbon, Brembo callipers, Various pad and disc suppliers
Cooling system: Caterham - Aluminium Alloy Fabrication
Exhaust: Caterham - Inconel Alloy Fabrication
Radio: Riedel
Telemetry: McLaren Electronics
Seat belts: Schroth Racing
Steering wheel: Caterham
Driver's seat: Caterham - Carbon fibre shell
Extinguisher system: Caterham
Rims: OZ - Magnesium alloy
Fuel cell: Caterham & ATL
Fuel: Total
Lubricants: Elf
Dimensions
Front track: 1800mm (max)
Rear track: 1800mm (max)
Wheel base: More than 3000mm
Overall Length: More than 5000mm
Overall Height: 950mm
Powertrain
Designation: Renault Energy F1-2014
Type: turbocharged, 90° 1.6l V6, assisted with kinetic and heat ERS
Valves: 24 (4 per cylinder)
Engine Construction: Cylinder block in aluminium
Rev limit: 15,000rpm
Pressure charging: Single turbocharger, unlimited boost pressure (typical maximum 3.5 bar abs due to fuel flow limit)
Bore: 80mm
Stroke: 53mm
Crank height: 90mm
Exhaust: Single exhaust outlet, from turbine on car centre line
Injection: Bosch direct fuel injection, limited to 500bar
Weight: Undisclosed (at least 145kg)
Total horsepower: Approximately 600hp (ICE) + 160hp (ERS)
Energy recovery system: Integrated Hybrid energy recovery via electrical Motor Generator Units, by Renault Sport
Energy Store: Lithium-Ion battery solution (up to 4MJ per lap), between 20 and 25 kg, by Renault Sport
---
---