Infiniti Red Bull RB10 Renault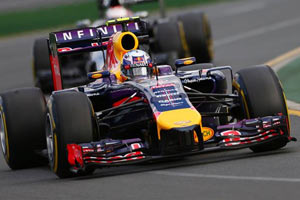 Active: 2014
Team: Red Bull Racing

Team: Adrian Newey (CTO), Rob Marshall (CD), Peter Prodromou (HA), Christian Horner (TP)
Drivers: Sebastian Vettel (1), Daniel Ricciardo (3), Sébastian Buemi (Reserve), António Félix Da Costa (Reserve)
Team name: Infiniti Red Bull Racing
The Red Bull RB10 was presented in the morning of 28 January, the first day of pre-season winter testing at Jerez. It was unveiled in the Spanish pitlane by Vettel and Ricciardo, the new driver pairing of the championship winning team following Mark Webber's departure to endurance racing with Porsche.
Readings from other teams soon proved that the RB10 was quick in the cornering work, proving it was another well thought out design by Adrian Newey. The designer spoke highly of the work done by the team over the winter, but also said he was wary of the possible dangers of the new low nose regulations.
A technical analysis of the launch spec also shows a fairly unique solution to the low nose regulations, incorporating apertures for driver cooling to reduce the drag created by the extending element. This item also does not contribute in a front impact test with the actual impact absorbing structure consisting of the part of the nose painted blue and yellow.

Even though performance readings were promising, they were also very brief, as the team struggled badly with cooling, packaging and the combination of ERS with the Renault V6 Turbo engine. It problems were so extensive that part of Red Bull's engineering team went to work on solutions for Renault's energy recovery systems in an attempt to get things sorted as soon as possible. The problems however kept the Red Bull in the garage for most of the pre-season testing. At the first 4-day test in Jerez, the team managed only 21 laps. Things improved only slightly during the following 8 days of testing in Bahrain.
When arriving at Melbourne, expectations were low, but the resourceful team came up with large revisions of its car, mostly underneath the skin in an attempt to make it reliable. Much to everyone's surprise, the car proved competitive as well, with Ricciardo scoring his first podium of his F1 career, before being disqualified for excessive fuel consumption.
Specifications
Chassis: Composite monocoque structure, designed and built in-house, carrying the Renault V6 as fully stressed member
Wheels: OZ Racing (Front: 12.0in x 13in diam., Rear: 13.7in x 13in diam.)
Tyres: Pirelli
Front suspension: Aluminium alloy uprights, carbon-composite double wishbone with springs and anti-roll bar, Multimatic dampers
Rear suspension: Aluminium alloy uprights, carbon-composite double wishbone with springs and anti-roll bar, Multimatic dampers
Brakes: Carbon - Carbon with Brembo callipers
Electronics: MESL standard electronic control unit
Fuel: Total
Transmission
Gearbox: Eight-speed gearbox, longitudinally mounted with hydraulic system for power shift and clutch operation, by Red Bull Technology
Powertrain
Designation: Renault Energy F1-2014
Type: turbocharged, 90° 1.6l V6, assisted with kinetic and heat ERS
Valves: 24 (4 per cylinder)
Engine Construction: Cylinder block in aluminium
Rev limit: 15,000rpm
Pressure charging: Single turbocharger, unlimited boost pressure (typical maximum 3.5 bar abs due to fuel flow limit)
Bore: 80mm
Stroke: 53mm
Crank height: 90mm (minimum allowed)
Exhaust: Single exhaust outlet, from turbine on car centre line
Injection: Bosch direct fuel injection, limited to 500bar
Weight: Undisclosed (at least 145kg)
Total horsepower: Approximately 600hp (ICE) + 160hp (ERS)
Energy recovery system: Integrated Hybrid energy recovery via electrical Motor Generator Units, by Renault Sport
Energy Store: Lithium-Ion battery solution (up to 4MJ per lap), between 20 and 25 kg, by Renault Sport
---
---