Sauber C36 Ferrari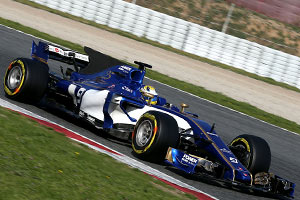 Active: 2017
Team: Sauber F1 Team

Team: Jörg Zander (TD), Nicolas Hennel (HA), Reto Trachsel (HAD), Monisha Kaltenborn (TP)
Drivers: Markus Ericsson (9), Pascal Wehrlein (94)
The C36 is Sauber's 25th car in Formula One, hence the team chose to colour it in a celebration livery with blue and gold. The car was unveiled online on 20 February, a week ahead of the start of pre-season testing at Circuit de Catalunya where it made its track debut.
Despite the looks of the highly developed and unique airbox solution - also see the technical analysis of the car -, the C36 was the result of a very limited development track, as the team were very cash strapped in the first half of the 2016 season until they managed to sign a new investor. This, along with the team's limited staff compared to the big teams meant development was less intense. It also triggered the team to choose to use 2016 Ferrari power units, instead of opting for the up-to-date Ferrari type 62. While knowing it would put them at a considerable disadvantage, especially without upgrades throughout the season, the team preferred to use the older units, avoiding the work that would otherwise be needed to fit modified power unit ancillaries.
The reduced development also triggered Team Principal Monisha Kaltenborn to say the team were aiming to make strides throughout the season: "we have a solid basis as well as the resources to further develop the Sauber C36-Ferrari through the season. This will be important to establish in mid-field."
Performance
Pre-season winter testing immediately confirmed the team's fears, with Sauber's drivers usually ranking among the slowest of all during most of the 8 days of testing. The team's fastest lap was 3 seconds slower than the quickest - Ferrari. The car did however run reliably, with 788 laps completed, the fourth most of all teams.
Specifications
Chassis: Carbon-fibre monocoque, in-house designed and built
Front suspension: Upper and lower wishbones, inboard spring and damper elements (Sachs Race Engineering) actuated by push-rods
Rear suspension: Upper and lower wishbones, inboard spring and damper elements (Sachs Race Engineering) actuated by pull-rods
Brakes: Callipers (Brembo), carbon-fibre pads (Brembo) and discs (Carbon Industries)
Transmission: Ferrari 8-speed quick-shift carbon gearbox, longitudinally mounted, carbon-fibre clutch
Chassis electronics: MES
Steering wheel: Sauber F1 Team
Tyres: Pirelli
Wheels: OZ
Dimensions
Length: 5,143 mm
Width: 2,000 mm
Height: 950 mm (minus T camera)
Track width: 1,615 mm (front); 1,530 mm (rear)
Weight: 728kg (FIA mininum; incl. driver and lubricants, tank empty)
Powertrain
Designation: Ferrari 059/5 (end of 2016 specification)
Type: turbocharged, 90° 1.6l V6, assisted with kinetic and heat ERS
Valves: 24 (4 per cylinder)
Rev limit: 15,000rpm
Pressure charging: Single turbocharger, unlimited boost pressure (typical maximum 3.5 bar abs due to fuel flow limit)
Bore: 80mm
Stroke: 53mm
Crank height: 90mm
Exhaust: Single exhaust outlet, from turbine on car centre line, along with two outlet pipes connected to the wastegate
Injection: Direct fuel injection, limited to 500bar
Ignition: SKF spark plugs
Weight: Undisclosed (at least 145kg)
Total horsepower: Approximately 900hp
Energy recovery system: Integrated Hybrid energy recovery via electrical Motor Generator Units
Energy Store: Lithium-Ion battery solution (up to 4MJ per lap), between 20 and 25 kg
Cooling system: Secan/Marston
Fuel and lubricants: Shell
---
---