Haas VF-17 Ferrari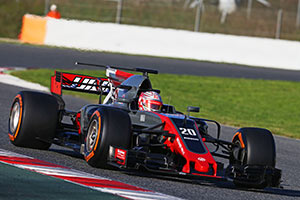 Active: 2017
Team: Haas F1 Team

Team: Phil Dixon (HVP), Ayao Komatsu (CRE), Steve Fraser (HEL), Gene Haas (Chairman), Gunther Steiner (TP)
Drivers Romain Grosjean (8), Kevin Magnussen (20)
The VF-17 is the team's second ever F1 car, following the VF-16 that powered the team to an eighth-place finish in the 2016 constructor standings. The car was again build in cooperation with Italian chassis manufacturer Dallara.
The car was built under a new set of technical regulations featuring an advanced aerodynamic package designed to create a higher level of downforce. A wider front wing, larger barge boards, a lower and wider rear wing and a diffuser that expands 50 millimeters (two inches) in height and width comprise the changes, along with wider tires from Pirelli, by 60 millimeters (2.4 inches) in the front and 80 millimeters (3.1 inches) in the rear, a 25-percent increase to bring the front tires to 305 millimeters (12 inches) and the rear tires to 405 millimeters (15.9 inches).
"I think the pedal box is the same, but all the rest is very different from last year's car," said Team Principal Guenther Steiner. "You always try to make a faster car, which is normally a lighter car. Now we can put on more ballast and get better weight distribution. The aero is completely new, as are the tires, so we needed to have some built-in adjustability.
"Aesthetically, the car has a more aggressive look. It's lighter and more aerodynamically efficient. Everything we learned from our first car has been applied to our new car."
The colors from the original car were carried over to the VF-17, but the overall scheme is different. A dark grey makes up the majority of the livery, with tones of red, black, white and light grey incorporating the look of Haas Automation's products.
Performance
The VF-17 was a solid improvement on the VF-16, even though the 2017 campaign started with a double DNF at the Australian Grand Prix. From then on, the team usually scored a few points at each race, with highlights at Monaco and Japan where both cars finished in the points.
Haas finished the season with 47 points, compared to 29 the year before, but still 8th in the championship.
Specifications
Chassis: Carbon-fibre monocoque
Front suspension: Upper and lower wishbones, inboard springs and dampers actuated by push-rods
Rear suspension: Upper and lower wishbones, inboard springs and dampers actuated by pull-rods
Dampers: ZF Sachs Race Engineering
Brakes: Six-piston callipers and carbon fibre pads and discs
Transmission: Ferrari 8-speed quick-shift sequential carbon-cased gearbox, hydraulically activated. Longitudinally mounted
Clutch: Carbon fibre plates, by AP Racing
Differential: Servo controlled hydraulic limited-slip differential
Electronics: FIA standard ECU and FIA homologated electronic and electrical system (as provided by MES)
Tyres: Pirelli
Wheels: OZ, magnesium alloy
Dimensions
Height: 950 mm (minus T camera)
Track width: 1,600 mm (front); 1,550 mm (rear)
Weight: 728kg (FIA mininum; incl. driver and lubricants, tank empty)
Powertrain
Designation: Ferrari 062
Type: turbocharged, 90° 1.6l V6, assisted with kinetic and heat ERS
Valves: 24 (4 per cylinder)
Rev limit: 15,000rpm
Pressure charging: Single turbocharger, unlimited boost pressure (typical maximum 3.5 bar abs due to fuel flow limit)
Bore: 80mm
Stroke: 53mm
Crank height: 90mm
Exhaust: Single exhaust outlet, from turbine on car centre line, along with two outlet pipes connected to the wastegate
Injection: Direct fuel injection, limited to 500bar
Ignition: SKF spark plugs
Weight: Undisclosed (at least 145kg)
Total horsepower: More than 900hp
Energy recovery system: Integrated Hybrid energy recovery via electrical Motor Generator Units
Energy Store: Lithium-Ion battery solution (up to 4MJ per lap), between 20 and 25 kg
Cooling system: Secan/Marston
Fuel and lubricants: Shell
---
---