BAR 005 Honda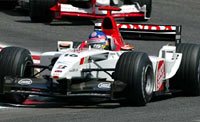 Active: 2003
Team: B.A.R Honda F1

Designer: Geoff Willis (TD)
Drivers: Jenson Button (17), Jacques Villeneuve (16) / Takuma Sato (16)
Team name: Lucky Strike B.A.R Honda
A lot of progress has been made, but it looks like there's still a difference behind the top teams. The beginning of the season was moreover a proof of unreliability, with Villeneuve only finishing once in the first 5 GP's.
With the restructuring of the business, the appointment of new personnel, the commitment of Honda and the arrival of Jenson Button, 2003 promised to be a very exciting year for Lucky Strike B.A.R Honda. The team's new B.A.R Honda 005 was notably lighter, smaller and more aerodynamically efficient than previous incarnations and it was fitted with an all-new Honda RA003E V10 power plant.
Jacques Villeneuve stated before the start of the season that it was the first BAR in some time that really looked like an F1 car. Jenson Button was welcomed as a future champion, and Geoff Willis drew the BAR005 as his first design at BAR.
2003 also begins a new chapter in B.A.R's relationship with Honda, which will see the team benefit from exclusive engine supply. The new RA003e V10 engine is lighter, smaller and with a lower mass promises to provide more power as well as an improved torque curve. The Japanese manufacturer will continue to work closely with the team in the area of chassis development. They have also become an official sponsor of BAR. Bridgestone continue with the team as official tyre supplier for the fifth consecutive year. The new technical regulations imposed over the winter have meant that each team will be allowed tyres specifically designed for their cars, so pre-season testing will see B.A.R and Bridgestone working very closely to ensure that they have the best possible package for the new season.
Although neither newcomer Button nor Jacques Villeneuve – now in his fifth year with the team – achieved a podium finish during the season, the team made significant progress both on the track and behind-the-scenes laying many of the foundations that were to produce significant results 12 months later. Both drivers were always in contention for points and the team ended the year at the Japanese GP on a high point when both Button and third driver Takuma Sato – substituting for Villeneuve in the last race – claimed top six finishes on Honda's home track Suzuka.
---
---