Renault R23B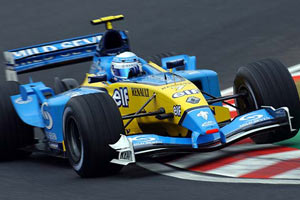 Active: 20-07-2003 - 2003
Team: Renault F1

Designers: Mike Gascoyne (TD), Tim Densham (CD), Bob Iley (CA)Drivers: Jarno Trulli (7), Fernando Alonso ( 8 )
This Renault only drove for the last 6 races of 2003 and was mainly an aerodynamic evolution of the R23 that started the season. The revised aero-package included lower sidepods and a new diffuser, gaining around 3 tenths of a second per lap. A smaller and lower side pod enabled more air to flow onto the rear wing, while the new exhaust layout allowed the engine to produce the so much needed extra power. These were redesigned to push out the exhaust gases to the back of the car, instead of pointing upwards as was the case with the Renault R23.
The R23B was good for 36 points, including the very first GP win of Fernando Alonso at Hungary.
Specifications
Chassis:
Moulded carbon fibre and aluminium honeycomb composite monocoque, manufactured by the Renault F1 Team and designed for maximum strength and stiffness with minimum weight. Engine installed as a fully-stressed member.
Front suspension:
Carbon fibre top and bottom wishbones operate an inboard titanium rocker via a pushrod system.This is connected to a torsion bar and damper units which are mounted at the front of the monocoque.
Rear suspension:
Titanium top and carbon fibre bottom wishbones operating vertically mounted torsion bars and horizontally-mounted damper units mounted on the top of the gearbox casing.
Transmission:
Six-speed automatic gearbox with one reverse gear.
Fuel system:
Kevlar-reinforced rubber fuel cell provides reduced risk of fire and is mounted behind cockpit in chassis monocoque.
Cooling system:
Separate oil and water radiators located in the car's sidepods and cooled using airflow from the car's forward motion.
Electrical:
Renault F1 Team developed chassis electronics and software control items such as gearbox, and the system links to engine management system (Magneti Marelli).
Braking system:
Carbon fibre discs and pads (Hitco); calipers by AP Racing.
Cockpit:
Removable driver's seat made of anatomically formed carbon composite, with six-point harness seat belt. Steering wheel has gear change and clutch paddles attached.
Car dimensions and weight
Front track: 1,450mm
Rear track: 1,400mm
Wheel base: 3,100mm
Overall length: 4,600mm
Overall height: 950mm
Overall width: 1,800mm
Overall weight: 600kg including driver, camera and ballast
Engine name:
Renault RS23
Engine specification:
Naturally aspirated three-litre V10 engine, 2998 cc
Wide v-angle, 112°
4 valves per cylinder
Engine speed in excess of 18000 RPM, providing a maximum power of more than 800 BHP.
---
---