Team Lotus T128 Renault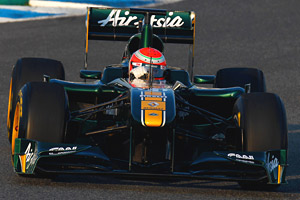 Active: 2011
Team: Caterham F1

Team: Tony Fernandes (TP), Riad Asmat (CEO), Mike Gascoyne (CTO), Keith Saunt (COO), Marianne Hinson (HA), Lewis Butler (CD), Elliot Dason-Barber (Head of R&D and Vehicle Dynamics)
Drivers: Heikki Kovalainen (20), Jarno Trulli (21)
In their second year in Formula One, Team Lotus aims for regular battles with midfield teams and regular point finishes. With all the team in place, the design time for the T128 was much longer than on its predecessor. Technical lead Mike Gascoyne was therefore able to push the limits, despite the limited budget compared to the more established teams.
The team launched their car as the first of all teams by revealing it ahead of the first winter test, in 31 January. The car debuted on 2 February at Valencia, Circuit Ricardo Tormo.
The 2011 car is vastly different from that of 2010 with a higher, wider and more curvy nose cone. From the pushrod connections of the front suspension on to the driver's helmet, the upper side of the cockpit also features a bulge on each side to house the front suspension rockers and increase the cross sectional area of the nose.
The sidepods are seemingly where the team made the biggest progress. As they looked very rudimentary in 2010, those on the T128 have a considerable undercut while also running tight in the back. Together, these two properties help airflow towards the rear end of the car, and hence also the so important rear diffuser. Contrary to what other teams have come up with though, the T128 in launch configuration features rather conventional exhausts, exiting from the sidepods low above the car's floor, but without any other channeling.
Above the driver's helmet, the Team Lotus also redesigned the roll hoop completely by adopting the blade roll hoop, similar to what Mercedes GP ran in 2010 on their 2010 Mercedes GP W01. Mike Gascoyne stated this to be a "small packaging advantage".
Under the hood, the car lacks KERS, but the the team have signed new engine and gearbox contracts. The Cosworth engine was replaced by the Renault RS27-2011, whereas the gearbox of the T128 is supplied by Red Bull Racing. It's actually the 2009 RB5 unit, but after the problems they experienced with the Xtrac transmission in 2010, the team desperately needed something more reliable. Because of the gearbox casing, the team also applied the rear pull-rod suspension system.
Team principal Tony Fernandes said: "The T128 thus has the 2009 RB5 gearbox. That car was a race winner in its own right you may remember, and although it sounds a little outdated it is a better choice for this season because last year's was tailored for the now banned double diffuser, and was actually heavier than the one Lotus has acquired."
Specifications
Chassis material: Carbon Fibre
Bodywork material: Carbon Fibre
Suspension: Carbon Fibre wishbones, push rod in front, pull rod in rear
Rear Suspension: Carbon Fibre
Dampers: Penske & Multimatic
Steering: Team Lotus
Gearbox: Red Bull Technologies
Clutch: AP
Brake discs and pads: Carbone Industrie or Hitco
Brake calipers: AP
Cooling system (radiators, heat exchangers): Team Lotus
Cockpit instrumentation: MES (as mandated by the FIA)
Seat belts: Schroth
Steering wheel: Team Lotus
Driver's seat: Team Lotus
Extinguisher system: FEV
Wheels: BBS to Team Lotus Specification
Fuel cell: ATL
Battery: Yuasa
Fuel provider: Total
Lubricants provider: Various
Wheel base: More than 3000 mm
Overall Length: Approx 5 metres
Overall Height: 950mm
Engine
Designation: Renault RS27-2011
Capacity: 2400 cc
Architecture: 90° V8
Weight: 95 kg
Max rpm: 18,000 rpm
ECU: MES SECU
---
---