HRT F111 Cosworth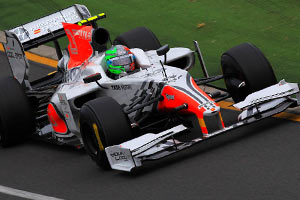 Active: 2011
Team: HRT F1 Team

Team: Geoff Willis (TD), Boris Bermes (Chief of Operations), Toni Cuquerella (Chief of Racing and Testing), Colin Kolles (TP)
Drivers: Narain Karthikeyan (22), Vitantonio Liuzzi (23)
The F111 is an evolution of the Dallara designed F110 which competed in the 2010 Formula One season. Although Gary Anderson described the F110 at its inauguration as "neat and tidy", it was in fact an underdeveloped package without any testing due to financial rumblings within the team.
Unfortunately, the story of the F111 is rather similar. Financially the team is a little bit better organised, and respected designer Geoff Willis was taken on board as a consultant to try and improve the existing chassis.
Again for financial reasons, the team chose to keep the same monocoque to be able to skip some of the crash tests. When the car was then finally shipped to the final pre-season test at Barcelona, HRT called off the single testing day as its dampers got stuck in customs. As such, the F111 starts the season with 0 testing kilometers, just like the F110.
Colin Kolles said at the launch: "The F111 represents a significant step forward for Hispania Racing. We have made a big improvement for our second season in Formula 1 and what you see in our new car confirms Hispania Racing´s commitment to F1."
The team's technical director commented: "Starting the programme to develop the F111 has been an enormous challenge. The group of engineers working from many separate locations had to produce the 2011 HRT chassis to meet the new regulations, package the Williams LG14 transmission, design all new rear suspension to suit and develop a complete aero package. Given the tight time frame, I am very impressed with the result and the enormous efforts everyone has put in to achieve the objective. However we have to be realistic in our expectations of performance; this is very much a baseline car which the team must develop in 2011."
Specifications
Chassis: Carbon fibre and honeycomb composite Monocoque
Front Suspension: Carbon fibre Double wishbone with pushrod operating torsion springs and anti roll-bar via rocker
Rear Suspension: Carbon fibre Double wishbone with pushrod operating torsion springs and anti roll-bar via rocker
Dampers: Lineal hydraulic dampers
Fuel Tank: Kevlar reinforced rubber fuel cell
Steering Wheel: Carbon Fibre with integrated Dash electronics and instrumentation
Steering System: HRT Hydraulic servo assisted system
Gearbox: Williams seven-speed "Quick-Shift" sequential semi-automatic shift
Clutch: Carbon Multi Plate
Brake Material: Carbon brake discs and pads
Brake Callipers: 6 pistons all round
Cooling System: Aluminium oil, water and gearbox cooler
Seat Belts: OMP
CockPit: Removable seat made of anatomically formed carbon composite and six-point seat belt & HANS system
ECU and Logging System: FIA standard ECU & FIA homologated electronic & electrical system
Wheel Rims: Magnesium alloy
Tyres: Pirelli P Zero
Dimensions
Overall Width: 1800mm
Car Weight: 640Kg (Minimum FIA weight)
Engine
Designation: Cosworth CA2011
Duty Cycle Type: 4 stroke reciprocating piston, normally aspirated
Configuration: 8 cylinders in banked V configuration with an angle of 90 degrees
Construction: Cast aluminium alloy cylinder block and head, forged aluminium pistons, steel crankshaft
Capacity: 2,400cc
Valves: 32 with pneumatic valve springs
Maximum speed: Limited to 18,000rpm
Timing: Double overhead cams driven via compliant gear from crankshaft
Mass: In excess of 95kg
Cylinder Bore: Less than 98mm
Fuelling: 8 injectors supplied by a pressurized system at 100bar
Ignition: 8 ignition coils each driving single spark plug
Lubrication: Dry sump
Spark Plugs: Champion
---
---