Scuderia Toro Rosso STR6 Ferrari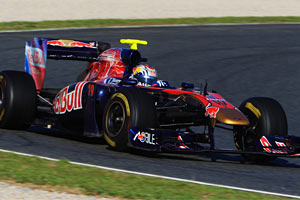 Active: 2011
Team: Scuderia Toro Rosso

Team: Franz Tost (TP), Giorgio Ascanelli (TD), Laurent Mekies (CE), Ben Butler (CD), Nicolo Petrucci (HA), Pierluigi Magaldi (QC), Roberto Monni (Head of purchase and production), Gianfranco Fantuzzi (TM)
Drivers: Sebastian Buemi (18), Jaime Alguersuari (19), Daniel Ricciardo (Reserve)
2011 marks the first year for Toro Rosso to run a car which it has designed and built completely by itself. In previous years, the team could rely on Red Bull technology to provide them with a chassis while the team focused on small tweaks. The STR6 is in that respect very different, and it shows.
Technical director Giorgio Ascanelli has led his team to design a car with an interesting approach, especially due to its sidepod cutouts that effectively create a double floor for the car, similar to the Ferrari F92A of 1992.
The car's design is largely influenced by the changed set of regulations, and as rules for the front end of the car have changed little, only smaller changes were done at the front. The nose cone is clearly an evolution of that on the STR5 while the front suspension has been nearly untouched. Aft of that, every single design change was made to try to gain downforce back after the ban on the double diffusers.
With simpler diffusers the only way to generate floor downforce, Toro Rosso found that channeling air underneath the sidepod could help diffuser efficiency. A clean and high speed flow over the diffuser will help suck away air from underneath it, facilitating the generation of downforce underneath the car.
An important disadvantage of these sidepods however is their increased surface. As such, high speed air flowing underneath the sidepod will lose some energy on the boundary layer of both the underside of the sidepods, as well as the upper side of the floor. This problem was effectively also why the 1992 Ferrari failed to materialize its promised performance when out on track. In an attempt to negate this effect, STR have designed a carbon fibre, long and narrow exhaust exit fitted atop the car's floor and ahead of the diffuser. The idea there is to re-energize the air coming from underneath the sidepods with the hot and high speed exhaust gases.
Due to the regulation changes, the shark fin engine cover has also been replaced by a more traditional design, while the airbox inlet remains to be typically round and different from what other teams are doing.
Mechanically, the car is still using their well known Ferrari engine, added with a Ferrari KERS system based on batteries. The KERS package is put on the centreline of the car, beneath the fuel tank.
Specifications
Official car name: STR6
Chassis material: Composite monocoque structure
Bodywork material: Carbon fibre composite
Front suspension: Upper and lower carbon wishbones, torsion bar
springs and anti- roll bars
Rear suspension: Upper and lower carbon wishbones, torsion bar
springs and anti- roll bars
Dampers: Sachs
Steering: Scuderia Toro Rosso
Gearbox: Seven-speed hydraulic
Clutch: Sachs pull-type
Calipers: Brembo
Pads and discs: Brembo
Cooling system (radiators, heat exchangers): Scuderia Toro Rosso
Cockpit instrumentation: Scuderia Toro Rosso
Seat belts: OMP
Steering wheel: Scuderia Toro Rosso
Driver's seat: Carbon fibre construction, moulded to driver's shape
Extinguisher system: Scuderia Toro Rosso/FEV
Wheels: Advanti Racing
Fuel cell: ATL
Overall weight: 640 kg (including driver and camera)
Engine
Designation: Ferrari V8 Type 056
KERS: Battery energy storage system, supplied by Ferrari
---
---