Red Bull RB13 TAG-Heuer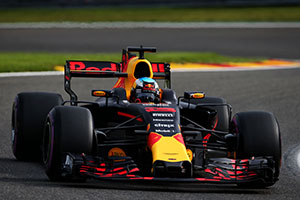 Active: 2017
Team: Red Bull Racing

Team: Adrian Newey (CTO), Rob Marshall (Chief Engineering Officer), Christian Horner (TP), Pierre Wache (CE - Performance), Paul Monaghan (CE - Car), Dan Fallows (HA), Jonathan Wheatley (TM)
Drivers: Daniel Ricciardo (3), Max Verstappen (33)
Team name: Red Bull Racing
Red Bull had high hopes for its RB13 ahead of the season, having been promised considerable progress from its power unit supplier Renault. The team had build extremely agile chassis in 2015 and 2016, but soon realised that the RB13 would be another beast. As early as pre-season testing, it was clear that the car was no match to the field leading Mercedes and Ferrari cars.
The problems triggered several team members to openly attribute their difficulties to correlation issues with the wind tunnel. Certainly not an oversight from a very experienced design team, but the radical chassis regulation changes did make it more difficult to very data without on-track running. It caught Red Bull out, admitting they had underestimated the aerodynamic impact caused by the by the overall increase in the width of the cars - up from 1800mm to 2000mm - and the increase in tyre width - up from 245mm to 305mm and 325mm to 405mm, at the front and rear respectively.
On top of that, the team was also taken by surprise by a technical directive issued by the FIA during the winter. The document effectively banned some specific advanced suspension designs following a clarification request made by Ferrari. It was understood at the time that Red Bull were indeed chasing such a suspension design, in particular to help control heave and roll of the car to improve its aerodynamic performance.
The inability to control the car's behaviour as much as they wanted to, resulted in a car that was much less effective than its predecessors - at least compared to the team's rivals. It is believes that these setbacks during the winter resulted in the team tracking back on advanced aerodynamic control structures, leading to a car that in the first races was extremely straightforward and clean, featuring much less small bits and pieces than other cars.
In-season evolution
At the first European race, the Spanish GP at Barcelona, Red Bull fitted its RB13 with a raft of aerodynamic upgrades, the first major step after having to resolve the wind tunnel calibration issues behind the scenes. According to some senior figures, the issues had caused the team roughly two months of development time. As of that moment, updates kept on coming, and the car clearly got closer to the leading Mercedes and Ferrari cars. It enabled Daniel Ricciardo to score 5 subsequent podium finishes, including a win at the Azerbaijan Grand Prix.
However, Spa-Francorchamps brought Max Verstappen's 6th power unit related retirement of the season, and increased tensions between the team and its engine supplier. The more upgrades Red Bull put into its car, the more efficient the chassis became, but the more obvious it was that on top end power, the team still had a considerable problem that would prevent it from fighting at the front, especially at power sensitive tracks.
Specifications
Chassis: Composite monocoque structure, designed and built in-house, carrying the Renault V6 as fully stressed member
Wheels: OZ Racing, forged magnesium alloy
Tyres: Pirelli
Front suspension: Aluminium alloy uprights, carbon-composite double wishbone with springs and anti-roll bar, dampers
Rear suspension: Aluminium alloy uprights, carbon-composite double wishbone with springs and anti-roll bar, dampers
Brakes: Carbon - Carbon with Brembo callipers
Electronics: MESL standard electronic control unit
Fuel: Exxon Mobil
Gearbox: Eight-speed gearbox, longitudinally mounted with hydraulic system for power shift and clutch operation, by Red Bull Technology
Dimensions
Length: Undisclosed
Height: 950 mm (minus T camera)
Track width: 1,600 mm (front); 1,550 mm (rear)
Weight: 728kg (FIA mininum; incl. driver and lubricants, tank empty)
Width: 2,000 mm (FIA maximum)
Powertrain
Designation: Red Bull Racing - Tag Heuer RB13 - 2017 (built around the Renault R.E.17 ICE)
Type: Turbocharged, 90° 1.6l V6, assisted with kinetic and heat ERS
Valves: 24 (4 per cylinder)
Engine Construction: Cylinder block in aluminium
Rev limit: 15,000rpm
Pressure charging: Single turbocharger, unlimited boost pressure (typical maximum 3.5 bar abs due to fuel flow limit)
Bore: 80mm
Stroke: 53mm
Crank height: 90mm (minimum allowed)
Exhaust: Single exhaust outlet, from turbine on car centre line
Injection: Direct fuel injection, limited to 500bar
Weight: Undisclosed (at least 145kg)
Total horsepower: Approximately 900 bhp
Energy recovery system: Integrated Hybrid energy recovery via electrical Motor Generator Units
Energy Store: Battery solution (up to 4MJ per lap), between 20 and 25 kg
---
---